Manchester City's preparations for the 2021/22 campaign began on Monday, with the club's first-team stars returning to pre-season training.
The Premier League champions are among some of the later returnees when it comes to pre-season, although that is partly due to such a high number of the City squad involved in June's batch of international fixtures.
But as Pep Guardiola's players returned to training, the majority were pictured and filmed arriving by the club's media department.
Among those included in a short video released by City were Erling Haaland and Julian Alvarez, both of whom arrived for their first day on the job at the club.
The latter was filmed introducing himself to John Stones, although Alvarez required a translator during Sunday's transfer unveiling at the Etihad Stadium.
Haaland was also in attendance at the presentation, and was shown meeting club staff for the first time during City's training video.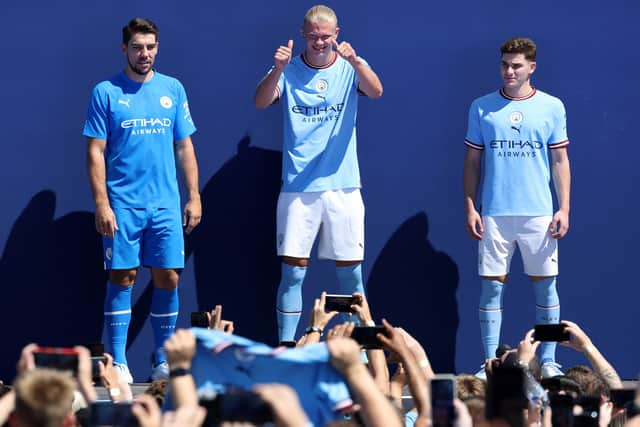 The likes of Bernardo Silva, Kevin De Bruyne, Ruben Dias and Phil Foden were spotted in the video, with 18 players seen entering the club's training ground.
However, there were a number of players not included. Kalvin Phillips missed Sunday's transfer unveiling through illness and wasn't seen in City's arrivals video.
Nor was Stefan Ortega Moreno, despite him being involved in the presentation at the weekend.
Raheem Sterling is expected to leave the club soon and sign for Chelsea, and he didn't make an appearance in the video, while Zack Steffen is in a similar situation and has been linked with a loan move to Middlesbrough.
Scott Carson, Joao Cancelo, Rodri and Jack Grealish also weren't seen, with City not yet providing reasons for any of those missing.
James McAtee wasn't in the group of on-camera arrivals, but did post a picture on Instagram of him at the club's training base.
Players spotted: Erling Haaland, Aymeric Laporte, Bernardo Silva, Kyle Walker, John Stones, Kevin De Bruyne, Julian Alvarez, Cole Palmer, Luke Mbete, Samuel Edozie, Ederson, Phil Foden, Ilkay Gundogan, Ruben Dias, Nathan Ake, Riyad Mahrez, Oleksandr Zinchenko, James McAtee
Players not spotted: Zack Steffen, Scott Carson, Stefan Ortega Moreno, Joao Cancelo, Kalvin Phillips, Jack Grealish, Rodri, Raheem Sterling.