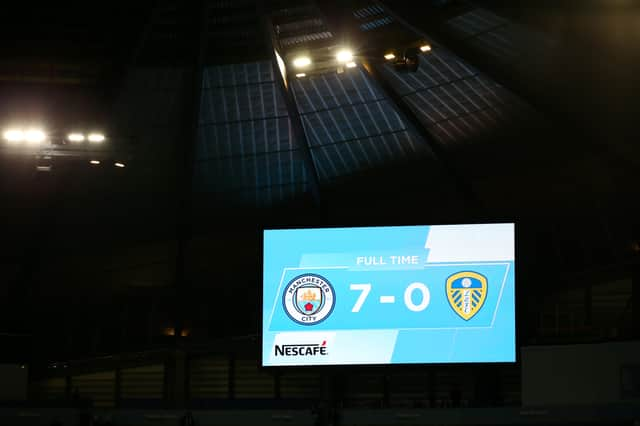 Manchester City beat Leeds 7-0 on Tuesday. Credit: Getty.
When you watch football like that produced by Pep Guardiola's men on Tuesday night, it's difficult to imagine how they ever lose.
How can any team deal with that quick interplay in the centre before a drilled ball out to a winger? How can a side cope with that pressing? How is there any way of scoring when City get men back that quickly?
Is it possible to defend those inch-perfect balls in behind? Is there any way to deny the full-backs space? Is there a method to limit the room for City's roving renegades through the middle?
How can any full-back stop Riyad Mahrez when he cuts in on his left? How can any striker get past Ruben Dias and Aymeric Laporte? How can you bypass Rodri in centre? How can you dispossess Bernardo Silva?
City were superb in the win over Leeds. Credit: Getty.
But at times, watching City is like viewing football from another planet, or as if someone switched the difficulty to amateur, or the other team have all just woken up. Maybe they actually have 15 players on the pitch?
City send ominous warning
It was also without doubt the best of campaign to date, which took just eight minutes to get underway as Phil Foden popped up with the opener. That was the hosts' second clear-cut chance of the night, and an indication of what was to come.
Foden got the ball rolling after just eight minutes. Credit: Getty.
Soon it was two after Jack Grealish, who gave a reminder of just why exactly Guardiola deemed him worth £100m, headed in the second of the night from a delicious Mahrez cross.
The England international didn't really have to do much, so poor was Leeds' defending, and sticking his fingers in his ears as a celebration indicated he, at least, isn't listening to those questioning his form of late.
Not that any could find fault in his performance on Tuesday, as he cut inside, flitted across the pitch and came close with several shots. It also represented the first sign he may be getting to grips with Guardiola's relentless system.
One of the things Grealish was most enthused about before he swapped Villa Park for the Etihad was the chance to play alongside Kevin De Bruyne, and the Belgian was simply magnificent against Leeds. He netted the third before half-time, and grabbed the strike of the game after the break when he smashed the ball in from outside the box.
Sandwiched between those goals, Mahrez deservedly got his name on the scoresheet, although his effort, in the 49th minute did deflect off Junior Fipro en route to beating Illan Meslier.
It was then the turn of the defenders to pop up at the other end. Nathan Ake, brought on after 65 minutes to give Ruben Dias a rest, found too much space in the centre to power in a cross.
But worse was to come, as Ayermic Laporte's header was saved in the box, before John Stones scored on his left foot after his initial effort was blocked. That City's defenders managed three shots in the box within seconds of each other speaks volumes for Leeds' defending.
Really it could, and should, have been more, and even for Guardiola's incredible standards, this really was a flawless display. It's also an ominous warning for the chasing pack of Chelsea and Liverpool, both of whom are in action on Thursday.
It wasn't just that City scored seven, this was a performance of such dominance that they managed almost double the passes of Leeds, recorded 15 shots on target and only conceded any real chance when the game was out of sight.
Every aspect of this display was phenomenal; the cutting passes, the direct dribbling, the constant redistribution of the ball, the interchanging of positions, and the ability to retreat at such haste when required and regain possession. This was all executed at an exhilarating pace and in such an unrelenting nature it became almost like watching the footballing embodiment of the Tasmanian devil
The season may only be at the halfway stage, but should City come even close to the levels of recent weeks throughout the remainder of the campaign, it's difficult to see anyone stopping them retaining their Premier League crown.