One of those was presented to debutant Erling Haaland at the end of the first period, although Andrew Robertson's tracking run perhaps impacted his stride towards goal and the Norwegian placed his shot directly at Liverpool goalkeeper Adrian.
After the highly anticipated build-up, Haaland's maiden competitive showing in sky blue proved somewhat of an anticlimax, with the striker struggling to get on the end of passes or convert goalscoring opportunities.
He also smashed an injury-time chance onto the crossbar from only a few yards out to compound a disappointing first game for City, although the offside flag was duly raised a few seconds later.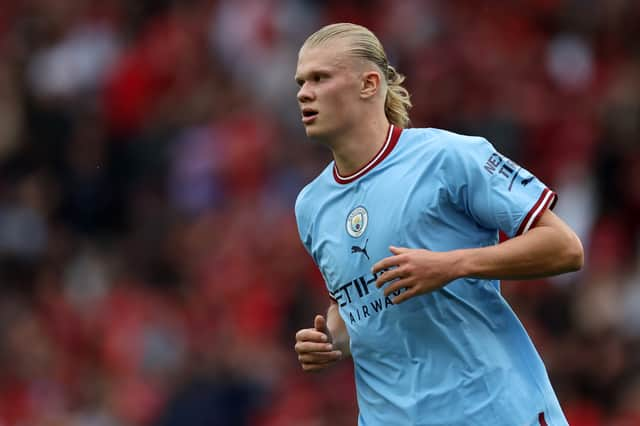 But it was far from a meaningless display for Haaland and City, who clearly are trying to regain fitness after a condensed pre-season that had only included two matches prior to the Community Shield.
Given that Haaland played in just one of those outings in the US, pre-season provided little indication of how his arrival would affect City's tactical set-up.
Yet it was a subject Guardiola tackled himself earlier this week when he claimed his side would largely play in a similar manner to last season, despite the introduction of an orthadox forward following a season and a half where City largely operated without a striker.
"We are not going to change the way we play," he told the club's website. "We're going to adapt the quality that the players have to be involved in the way we play, but we are not going to change the way we play.
"Why should we change the way we play when we did really quite well in these last seasons?
"But we want Erling, Julian [Alvarez] and Kalvin [Phillips], and of course, Stefan [Ortega Moreno], we want the best of them, the best version of them, adapting what you want to play."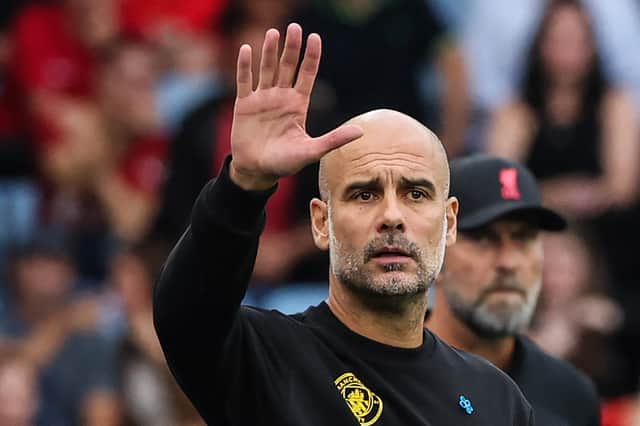 Midfield adjustments
But Saturday's performance at the King Power Stadium suggests Guardiola may not have been entirely truthful when previewing his tactical formula for the upcoming campaign.
Haaland, as expected, played most of the game pinned up against Liverpool centre-backs Virgil van Dijk and Joel Matip, something rarely seen from a City player last term.
In 2021/22, City's midfielders habitually drove forward into the void created by a lack of a centre-forward, with several players often flitting into the position for a period before moving elsewhere.
The early indication with Haaland on board is that will have to change, while the 22-year-old's place in the team also appeared to impact City's midfield alignment.
Most notably, Kevin De Bruyne pushed slightly higher up the field - a role he did occupy at times last term - and tried to thread passes into behind the Liverpool defence for Haaland to chase after.
It had limited success, although there was at least some early indication that it will yield results for City over the coming season.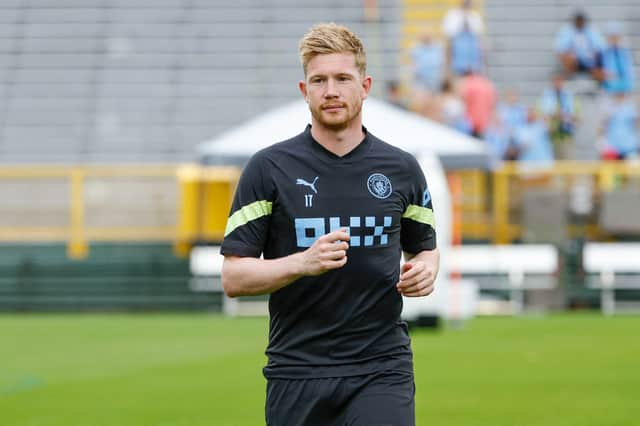 But having one main target to supply up top will be a change for City's creator-in-chief this term, and the Liverpool loss hints Guardiola will try to play De Bruyne in a more offensive role.
To accommodate this, Bernardo Silva dropped deeper and sat alongside Rodri in midfield. Again, he has done this before, memorably against Liverpool in the league draw at the Etihad in April, and he is adept at pressing from the centre and driving with the ball from a more withdrawn role.
It's also a position which would suit the energetic Kalvin Phillips, who didn't feature against Liverpool. But Haaland's arrival and a potential switch to two midfield sitters would explain Guardiola's desire to recruit the England international this summer.
Time is needed
There was another significant tactical alteration from Guardiola's men on Saturday. In possession, City's wingers stretched the pitch wide, but as the team developed into a passing rhythm it was the full-backs who pushed higher and wider, with the widemen coming inside to operate closer to Haaland.
Last season City predominantly played with inverted full-backs and wingers who hugged the touchline. But at the King Power, Riyad Mahrez and Jack Grealish looked to move inside more often than last term.
In fact, it was evident on more than one occasion that as Kyle Walker advanced down the line, Mahrez's instinct was to drift into a more central position.
In the second half, as City trailed 1-0 and looked for a way back into the match, De Bruyne attempted to slip the ball into Haaland only for his pass to be intercepted by the Liverpool backline, with Jurgen Klopp's side launching a rapid counter-attack.
In that quick transition, there were two clear blocks of defence and attack, the latter comprising De Bruyne, Mahrez, Grealish and Haaland.
Again, it's another sign of how Haaland's arrival will shape this team over the coming months, and why Guardiola's comments earlier this week proved somewhat off the mark.
Saturday's game will not provide a definitive blueprint for how City approach games this term, and there will be no shortage of alterations and tweaks depending on the opponent and players available, but the Liverpool match showed the new Haaland-centric system won't immediately function effortlessly.
It will take time for City to incorporate these updated nuances but, as tends to happen with Guardiola's hare-brained schemes, the final results should be devastating.
The concern will be whether the team's period of adjustment opens the door for Liverpool to steal top spot this season.