Man City discover FA Cup semi-final opponent & what it means for Premier League race with Liverpool
Manchester City could stop Liverpool winning the Premier League and FA Cup this season.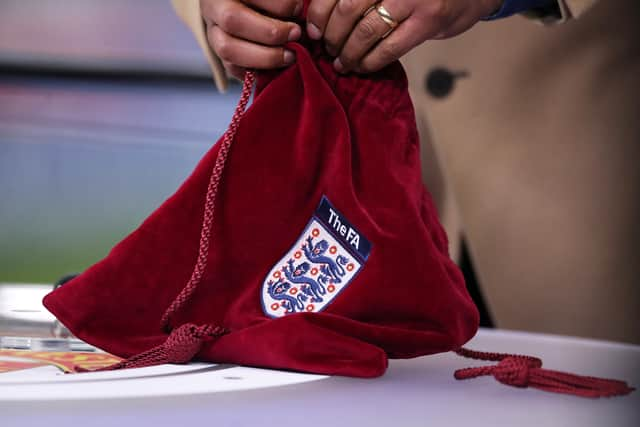 Manchester City will face Liverpool in the FA Cup semi-finals
Manchester City have been drawn to play Liverpool in the semi-finals of the 2021/22 FA Cup.
The draw on Sunday initially paired City with either Liverpool or Nottingham Forest, but Jurgen Klopp's men beat the Championship outfit 1-0 later that afternoon, and will now face City in the last four.
Ex-Liverpool and City forward Robbie Fowler pulled the names from the hat just before the meeting of the former European champions at the City Ground, and the other semi-final pairing will see Chelsea play fellow London side Crystal Palace.
City progressed to the last four after beating Southampton on Sunday. Credit: Getty.
The ties will be played on the weekend of 16/17 April, which is Easter weekend, and both matches will be played at Wembley.
City were originally set to face Wolverhampton Wanderers in the Premier League that weekend, but it will now be rescheduled for a later date.
England's two best sides are likely to meet at Wembley next month. Credit: Getty.
As for Liverpool, who City are locked with in an epic title tussle, their league fixture against Aston Villa will also have to be moved.
City secured their passage to the next round of the FA Cup after a 4-1 win over Southampton on Sunday, although the scoreline perhaps flattered Pep Guardiola's men on an afternoon when they faced a tough encounter at St Mary's.
The Premier League champions managed to avoid Liverpool in Friday's Champions League draw, and any hopes of England's two best sides meeting in the final of multiple cup competitions has been dashed following Sunday's FA Cup pairings.
City made it to this stage by eliminating Swindon Town, Fulham, Peterborough United and Southampton, and means Guardiola could have to navigate past Liverpool and Chelsea if he's to lift the trophy for a second time in his career.
Elsewhere in the competition, Chelsea dispatched Middlesbrough on Saturday in the first quarter-final tie, after the North-East club had seen off Manchester United and Tottenham Hotspur before that.
Palace also moved onto the last four by putting four goals past a hapless Everton at Selhurst Park.