Man City and Man United both offered chance to make shock January move for ex-Liverpool star
The Brazilian could be on the move sooner rather than later...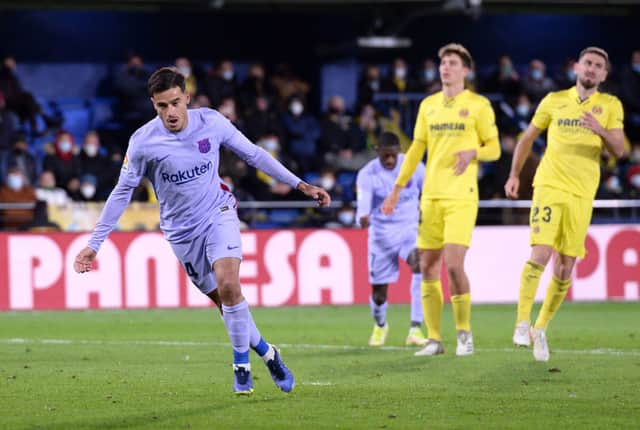 Philippe Coutinho of FC Barcelona. (Photo by Aitor Alcalde/Getty Images)
As per Spanish publication Sport, the Catalan giants have drawn up a shortlist of Manchester-based players that they would like to pursue in the January transfer window, and have sounded out both clubs about potentially using the South American as a makeweight in any negotiations.
It is understood that Barcelona are interested in City duo Ferran Torres and Raheem Sterling, as well as United centre-forward Edinson Cavani, and are willing to cut their losses on former Liverpool talisman Coutinho if it helps them to get any of those deals over the line.
What are the bookies saying?
Quite a lot and yet very little at the same time.
Over the past few months, the odds have fluctuated pretty wildly on where Coutinho could end up plying his trade once Barca inevitably kick him to the curb.
Everton and Newcastle United have both been mentioned regularly, but left-field shouts as mundane as a move to Arsenal and as sensational as a romantic return to Liverpool have been touted too.
In terms of the two Manchester clubs, however, the truth is that there has been very little - if any - activity in the market linking them to Coutinho recently.
Maybe that will change in the aftermath of this report, but for the time being there's nothing in the way of clarity when it comes to whether United or City have a better chance of signing him - according to the bookies, at least.
How likely are City or United to seal the deal?
Honestly, it's hard to say.
First and foremost, it's probably worth reiterating just how often Coutinho is linked with an exit from Barcelona.
Another report adding fuel to that particular fire could, therefore, be justifiably taken with a pinch of salt.
But there are some interesting subtexts here.
For one thing, Spanish outlet Mundo Deportivo published a report on Tuesday suggesting that City star Torres has already agreed a deal in principle to join Barca in January, and that the only thing holding up a full agreement is the disparity between the two clubs' valuation of the player.
Could Coutinho be used as the makeweight to bridge that gap and force a transfer over the line?
Likewise, Barca are currently clear favourites to sign Sterling at a price of 5/2.
Is the Brazilian the missing link needed to convince City to cash in on the England international?
From a United perspective, the arrival of Cristiano Ronaldo looks to have somewhat diminished Cavani's first team prospects - even when he does return from his current injury absence.
It's understandable, therefore, if Barca believe that they have an increased chance of signing the Uruguayan in the coming months.
But there's still no guarantee United would sell, and more importantly, there are even fewer assurances that they - or City, for that matter - would want Coutinho.
He's hardly a like-for-like replacement for any of the players mentioned in Sport's report, nor is he the same dazzling, all-conquering megastar he was during his stint at Anfield. A fairly underwhelming tally of two goals in 13 appearances perhaps goes a long way towards explaining why Barcelona are so eager to get rid.
Of course, stranger things have happened, but at the moment, City and United fans would be justified in their scepticism of this one.