But Liverpool do not have that luxury, and there has already been plenty of attention given to the Steven Gerrard link, with the former midfielder having the chance to hand his old club the title by upsetting City.
But as far as asking for a favour goes, Reds boss Klopp is having none of it.
"If I could play a game to help Dortmund, to help Mainz, for me, it would be an extra motivation - that's how it is," said Klopp in his pre-match press conference.
"But I don't play and Stevie doesn't play. That's much more a shame that Stevie is not playing than I. But we are human beings, and Stevie will take it 100% serious without me calling him. I don't have to.
"The rest of the club probably already did it, but I didn't. This is a game that I am not thinking about or not concerned about at all. We speak for too long about that game but it's complete disrespect to Wolverhampton Wanderers, because they will do exactly the same.
"They don't come here and want to be part of our celebrations. They come here and will want to win and get three points, definitely. We have to be ready for this game, and not the other one."
Speaking of 'ready', Liverpool have received a number of injury boosts ahead of their clash with Wolves - and indeed ahead of their Champions League final with Real Madrid in a week's time.
Defender Joe Gomez has dodged a scare during the week, while Mohamed Salah, Virgil van Dijk and Fabinho have also recovered after missing the last two, but there are still big decisions to make.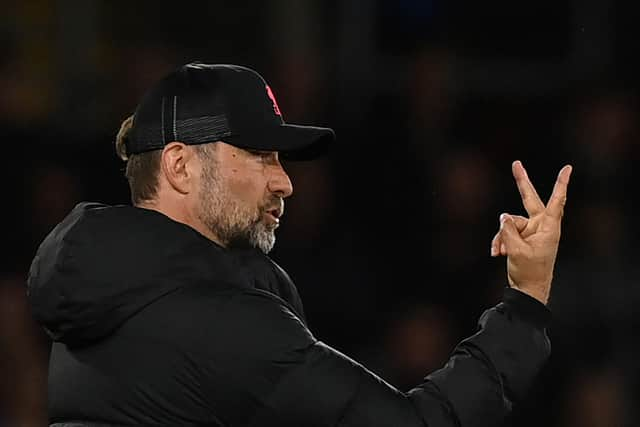 "Joe is first and foremost good news," added Klopp. "Yesterday we had a reassuring further scan, but like we and he thought after the game, we were lucky. It was a proper knock but nothing happened.
"It was the leg where he was injured so I understand 100 percent that everybody was a bit concerned – I was until I saw Joey's face in the dressing room. I think most of the time we know best about our body.
"The result of this scan is not here yet but we don't expect anything really different, it was just reassuring, it's all fine and from there we go. If it's fine then it's about pain, how can you deal with pain, and then we will see what Joe can do today or tomorrow. But I don't know in the moment.
"With the other boys it looks all good. What we do with them for the weekend I have no idea. I actually understand 100 per cent the goalscoring battle with Heung-min Son but we have no chance that we take any risks. But Mo doesn't want to take any risks, there is no doubt about that.
"It looks good but the boys make steps and we will see. My preferred solution would be that they all could play at the weekend for rhythm reasons, stuff like this, or at least could be on the bench and then we can bring them on or not, but they are involved. But if not, then we take it from there. I cannot say 100 percent."