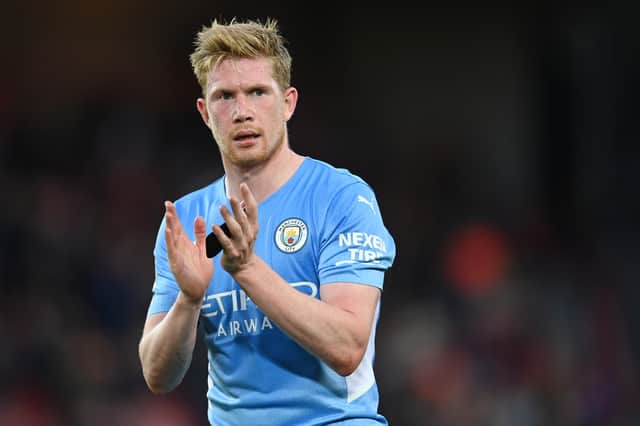 Manchester City have had to ease Kevin de Bruyne back in to the fold after a raft of injuries. (Photo by Michael Regan/Getty Images)
Kevin de Bruyne has admitted his regret by playing through the pain barrier at EURO 2020 which has hampered his involvement with Manchester City this season.
City's star player has had to play a bit-part role this season due to recovering from an ankle injury, sustained whilst on international duty with Belgium.
The 30-year-old reached the quarter-finals of the Euros, defeating defending champions Portugal, but it came at a cost as De Bruyne was forced off with an injury from a tackle from João Palhinha.
Revealing his regret to HLN in Belgium, he said: "If I speak for myself: I came in with an injury to my eye socket and after three matches I left with an even more serious ankle injury.
"I knew immediately that my ankle was bad after that tackle against Portugal. I played against Italy with two injections. If I had known beforehand what my ankle would have been like afterwards, I would not have played football."
De Bruyne only started his first game of the season in mid September, when he led the line against Leipzig. He has since been integrated back into the squad fully and has been managed carefully by Pep Guardiola.
His recovery is something which has improved the morale of the manager, with Pep claiming he was happier than ever after they had come through unscathed ahead of their match with Liverpool on Sunday.
He said: "Obviously, when we won the Premier League I am happy but in this period when we have had injuries and Phil Foden and Kevin De Bruyne trained for just two weeks, the level and consistency in those two games is so good. That's why I am happier than ever."
De Bruyne's early exit in the Champions League final ended up being costly. (Photo by Carl Recine - Pool/Getty Images)
Last season De Bruyne picked up a number of niggling injuries, including a hamstring problem which ruled him out for up to a month. In total, he missed 11 matches but City were able to claim a Premier League triumph.
The injury that ended up being most costly though was an injury picked up in the Champions League final defeat to Chelsea.
A collision with Antonio Rudigër forced the Belgian to depart the field early, thus leaving CIty depleted in attack, which Chelsea profited from, winning the game 1-0.
The facial injury put De Bruyne's involvement at EURO 2020 in doubt and in doing so, he missed their opening match.
There is no bad blood towards the German though, "I have seen the images back", he added. "He just wanted to block me, not to cause an injury. For me, it was not a red card. I was concussed, so the final is all a blur."
De Bruyne is currently on international duty with Belgium as they hope to win the UEFA Nations League. They face France in the semi-finals on Thursday, October 7 at 19:45 BST.