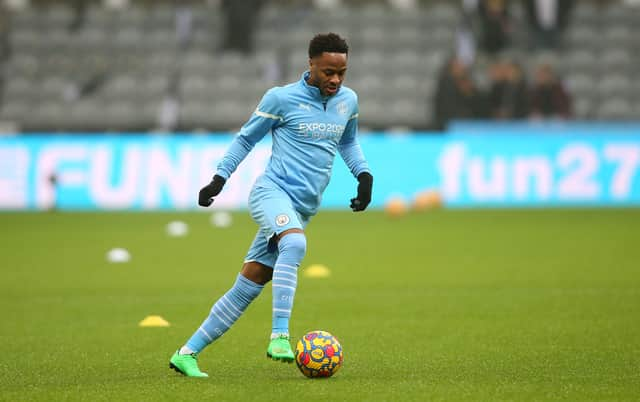 Jamie Carragher has said Raheem Sterling is England's 'best attacker' and believes his exploits at Euro 2020 have helped make him a more valuable asset than Harry Kane.
But Carragher, who played when Sterling made his Premier League debut for Liverpool in 2012, was asked if he'd believed then that the youngster would go on to achieve the heights he has over recent years.
"No, and that's not saying he was a special talent, he was. But what he's gone on to achieve in terms of the medals, the goals, the numbers, is fantastic," Carragher responded.
"Early in his career, the lad I knew coming through at Liverpool, this wasn't a cocky, arrogant, young kid, this was a really shy lad who was desperate to be the best player he could possibly be.
"He was almost like the perfect professional from what I saw at Liverpool, the way he performed. I absolutely love him; I think he's fantastic. I just saw a stat that only [Lionel] Messi and [Sergio] Aguero have scored more goals for Pep Guardiola than Raheem Sterling. That shows the goal record and he doesn't get injured, that's what I love about him.
"For me, he's England's best attacker right now. He moved above [Harry] Kane in terms of what he did in the summer; he was outstanding," Carragher added.
City aren't short of options on the left flank, with Phil Foden, Gabriel Jesus and Jack Grealish all capable of playing in that role. It's for that reason, Carragher is surprised Pep Guardiola invested so much money on Grealish in the summer.
"I go back to it and, it's not a criticism of Jack Grealish, I just don't know why Man City paid that money for Grealish when they had Raheem Sterling," he opined.
"I know there was talk last season that he wasn't at his best, but he's had three or four years of getting 20 [goals]. Thirty-one he got one season as well. I think he's one of the best attacking players in the Premier League."
'He's got the bit between his teeth again'
Jamie Redknapp was also a pundit on Sky Sports and expressed his view that Sterling is back to his best levels after a subpar campaign in 2020/21.
"There was a lot of talk he was going to go in the summer," said Redknapp. "Ten goals last season and even that is not the level we expect from him, but I think you have to credit the manager a little bit because he's definitely got him going again.
He's now looking as sharp as he's ever looked. He's got 18 months on his contract, will he go, will he stay? Who knows. He's in a brilliant position to shape his career.
"Does he want to sample playing abroad? Or does he want to continue paying at one of the biggest clubs in the world with an incredible manager? But I do feel this year, a little bit like Bernardo Silva, he's got the bit between his teeth again and he looks like the Raheem Sterling of previous years."