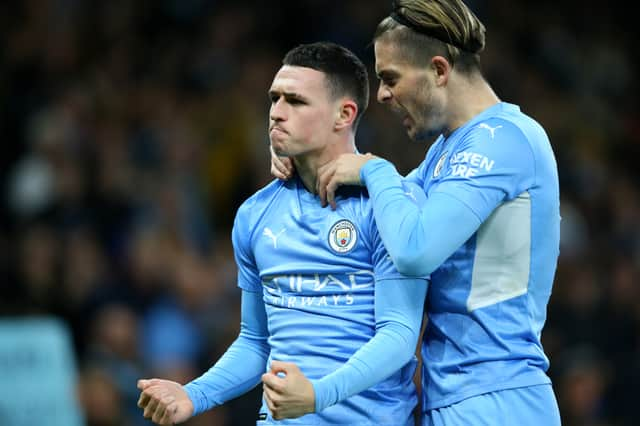 Phil Foden and Jack Grealish celebrate a goal in the recent win over Leeds. Credit: Getty.
According to reports, Manchester City were not impressed with their conduct during the week after they were pictured on a night out.
However, this is not the first indiscretion for either player off the pitch.
Grealish and Foden were both on the bench at St James' Park. Credit: Getty.
What has been reported so far?
As a result, it seems both players were overlooked for the weekend game against Newcastle, although The Times did state John Stones, who was also left out at St James' Park, was not involved in the incident.
Why this is an another concern for Grealish
At 26, there have been a number of off-the-field incidents over which Grealish has found himself in the papers.
As a youngster at Aston Villa, the winger was pictured sprawled on a road, apparently unconscious, on the streets of Tenerife, when he was a teenager.
Grealish was involved in several incident at Aston Villa. Credit: Getty.
In 2015, Grealish was dropped from the Villa squad after a reported night out in Manchester.
At the time, Villa manager Remi Garde said: "You have to behave as a professional and it was not the case this time for Jack. He will not play with us, which is already a big punishment for a player. Now we will see the next step."
A few years later he was axed from the England Under-21s team for showing up late to a meeting, and last year he was found to have broken government guidelines regarding Covid-19 regulations at a meal out.
Grealish was banned from driving for nine months and fined £82,499 for admitting to two counts of careless driving in March and October 2020, the former which involved footage of him colliding with parked cars.
What about Phil Foden?
Foden's rap sheet isn't quite as detailed as Grealish's, although aged 21, this is already his second disciplinary issue.
The first came during his maiden call up to the England senior squad, when he and Mason Greenwood were sent home early for breaching Covid-19 isolation protocols in their hotel rooms after a game.
What Guardiola had to say about the pair - plus our view
The incident with Grealish and Foden comes as Covid cases surge across England, and after a weekend in which six Premier League games were called off due to the number of infections.
Just two weeks ago, Guardiola spoke about the need for his players to limit their social gatherings at present.
"The club speak with them and they know that they have to be careful and know not to go to gatherings and be at home as much as possible or when you go out be careful, social distance, wear a mask and come back," said the City boss.
"You are chancing that you will not get it because it's there. Just see the statistics and the rules of the government and it is still there unfortunately.
"There are setbacks and you have to protect yourself because at Christmas time they have a tendency for more parties and go out more often and in that you have to be careful."
Gareth Southgate may not take kindly to the latest incident involving Grealish and Foden. Credit: Getty.
Then there's just the simple fact that this isn't a good look for either player. Grealish's list of misdemeanours does not make for good reading, and at 26, hopes that he may begin to settle down and focus solely on his profession seem unfounded.
As for Foden, City's No.47 must nip this trend in the bud before he begins to develop the' bad-boy' persona that Grealish has been labelled with.
There's also an expectation today that footballers need to demonstrate leadership and be role models in all aspects of life.
"We have exceptional examples of players setting a really good example for young kids who are watching them," England manager Gareth Southgate said in the summer.
In a Three Lions' squad which contains players who have stood up to racial injustices, petitioned the government, and were heavily involved in a 30% wage cut during the first UK lockdown, the actions of Grealish and Foden stand out for the wrong reasons.