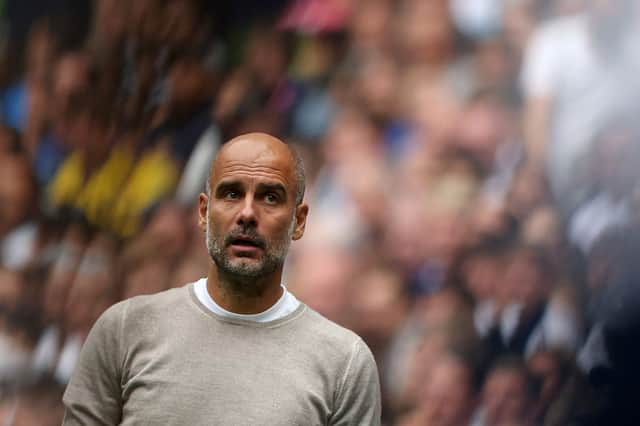 Pep Guardiola launched into a passionate monologue on Friday afternoon to defend comments he made on Wednesday about Manchester City supporters.
This has prompted a furious reaction from some City supporters, who often are mocked for having a supposedly smaller fanbase compared to other top clubs.
In fact, Kevin Parker, the general secretary of City's official supporters' club, was so irked by the comments from Guardiola that he encouraged him to 'stick to coaching' and suggested in an interview with PA that the manager had only provided ammunition for other teams' supporters.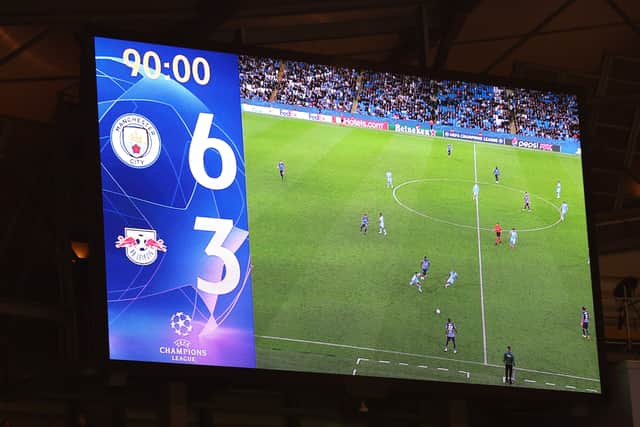 Explaining those comments
Guardiola was asked in Friday's pre-match press conference to explain exactly what he meant in this week's interview
"Did I say after the game against Leipzig that I was disappointed that the stadium was not full? An interpretation is an interpretation," he told reporters. "I am not going to apologise for what I said. I didn't say [anything] wrong. I'm surprised what happened about this man [Parker]. It's not the first time I said in my career, I said [it] at Barcelona and Bayern, when you play a game like Champions League, so tough, as it was, knowing that three days later you play Southampton who have had a week to prepare. I know Ralph [Hassenhuttl] and how difficult it was [to play them] last season.
"I make an approach to do something again together next Saturday at 3pm. What I said was we need the support - 10,000 people, 15,000 people, 40,000 people, 50,000 people - it doesn't matter how many people come but I invite them to enjoy another game like the last game because we need their support. After five seasons, if people cannot understand how I behave about the fans - they want to misunderstand exactly what I say.
"I'm not going to apologise for what I said because in the last year and a half, two seasons, we have done, unfortunately, without them. I was entirely grateful for the support that we had last time against Leipzig. When we play away, when we play home without our people, I always say if guys want to come we will be incredibly happy. If you come to see the next game against Southampton [Iw will be happy] because I know how difficult it [the game] will be and we prefer to be with our people than without our people. But if they don't come for any reason, it's perfect. I never sit here and ask why people don't come. If you don't come then don't come. So Mr Parker should review the comments the day after, but I will not apologise to him, definitely not.
Speaking later about Southampton's extra time to prepare, he said: "That's why we need everyone: our players and our supporters to help us and to do our best. I know that our fans will be there to support us and hopefully they come back to watch us."
No issues with the fans
But Guardiola wasn't done yet, and some the Catalan was asked whether City's fanbase would take time catch up to that of England's other top clubs.
"We are who we are," he responded. "We are proud of who we are. I know the history, I have learned that they were in the lower divisions, how it means [for fans] to travel and follow the team. I respect [it] a lot. I don't want to be like United. I don't want to be like Liverpool. I don't want to be like Barcelona, like Bayern Munich, like Real Madrid, like all the big clubs. We are who we are, in good things and bad things.
"I like this - people don't misunderstand and put words in my mouth, that I didn't say. I don't like it. I don't have a problem with fans. I will never be a problem for my fans. If I'm a problem for fans I would stand aside. It's not a problem to me, but I am one of them. Since day one I tried to do my job as best as possible, that's for sure. I like to play in the stadium with my fans. It was an incredibly tough game against Leipzig, I knew, in some moments we were clinical when we conceded a goal, [we] scored again. Otherwise, the last minutes will be so tight. I was exhausted.
"I was incredibly happy; I saw in the last moments how difficult it was for my team. In that moment I was thinking of Southampton in three days. And I said 'come guys, come to join us, come to do it together'. Come to try and beat Ralph's team because I know how difficult it will be. This is my message, but when these guys or the other guys, or Sky want to misunderstand my comments, this is a problem.
"But I am here to defend what I said. When I make mistakes I am here to say sorry and apologise, but I will not apologise for what I said. I know exactly what my intentions are, they are to be a part of something. We do it together. Even that, I prefer to have 10,000 people if a year and a half ago the stadiums were empty. I prefer it. I know who we are and the team that we are, and I like the fans that we have."