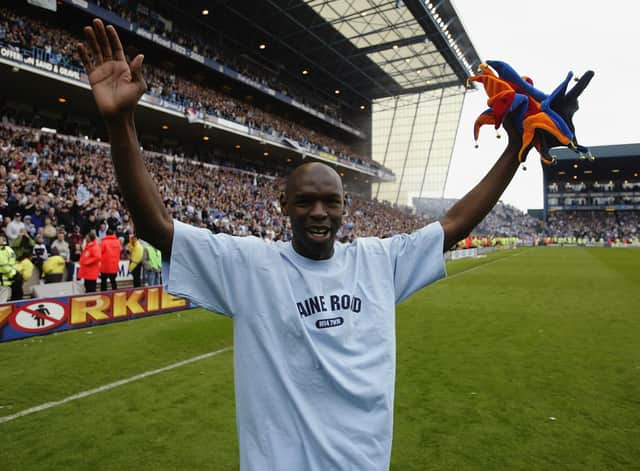 Shaun Goater. Credit: Getty.
Manchester City hero Shaun Goater believes he can help the generation of youth players, after joining the club's academy coaching set-up.
The former striker is set to start a 23-month placement with City after successfully applying through the Premier League's Coach Inclusion & Diversity Scheme (CIDS). The programme aims to increase the number of coaches from Black, Asian and mixed heritage backgrounds who are working in the professional game.
Goater's new role will see him work across a variety of age groups and help him gain coaching experiences with a number of different teams. He will also receive financial support and further learning opportunities through the programme.
Speaking to City's official website, 'The Goat', who scored 103 goals in 211 games for the Blues said: "This is a fantastic opportunity for me.
"To work at one of the best academies in the world, in top-class facilities and with some of the most talented youngsters in the country is something every coach aspires to.
"I enjoyed some wonderful times here as a player and, in this role, I am confident I can help the next generation on their journey, whilst also improving as a coach.
"It is so important that people from all backgrounds are represented within football and it is great to see Manchester City and the Premier League are committed to helping coaches from under-represented groups build a career in the game."
Goater played for City between 1998-2003, helping them gain promotion on three occasions, and finished as the season's top scorer on four separate occasions. The Bermuda national also played for Rotherham United, Notts County, Bristol City, Reading, Coventry City and Southend United.