Manchester City secured a sixth Premier League title on Sunday, and a fourth under Pep Guardiola's stewardship.
But Guardiola's men managed to hold them off and end the Reds' hopes of a treble, while also ensuring it wasn't a trophyless campaign at the Etihad.
But how did they manage it, and what were the pivotal factors in City retaining their Premier League crown?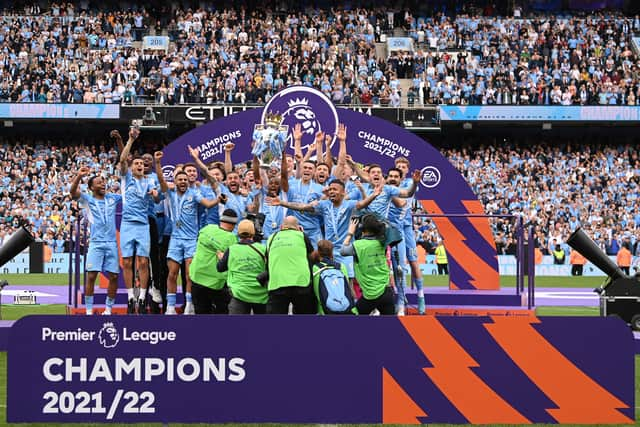 Controlling games
It might seem obvious, but City's ability to manage games resulted in them regularly picking up three points.
Gary Neville claimed earlier this campaign that City never play badly, and while perhaps a slight exaggeration, his assessment isn't far off the mark.
Guardiola's tactical set-up relies on control, from the keeper playing out, the defence pushing high, the position of Rodri and then the flexibility and movement of the midfielders in the striker-less system.
It all means City retain possession and create repeated chances throughout games, while immediately regaining the ball when they lose it. They slowly suffocated opposition sides, denying them the opportunity to play themselves.
Even in games City dropped points they were often the better side, and while it's impossible to control every aspect of a 90-minute display, the Sky Blues rarely played in matches where they weren't in the ascendency for 70/80% of proceedings.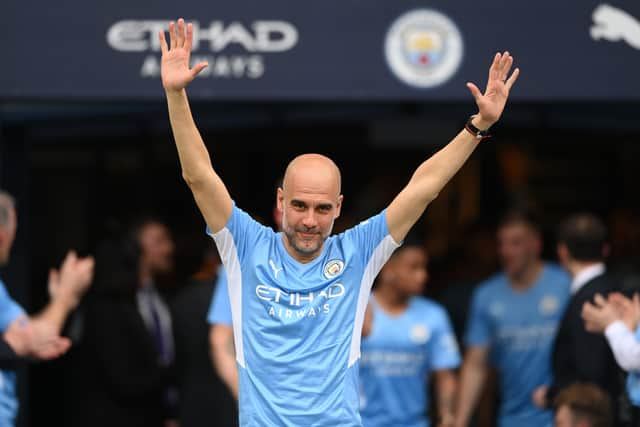 You can count on one hand how many games City didn't dominate throughout the campaign, while, incredibly, there probably wasn't a single Premier League match in 2021/22 where an opponent could walk away thinking they'd truly outplayed Guardiola's gaggle.
It's a truly remarkable level to aspire to and it's a daunting prospect for anyone hoping to take the trophy off City next season.
De Bruyne's determination
De Bruyne's start to the season was a little hit and miss, as he struggled to recover from illness and injury.
At times in the latter stages of the campaign, the Belgian was like a one-man winning machine, bulldozing through defences while simultaneously having the subtlety to slip inch-perfect passes in behind, which drove City onwards in search of another title.
From his final 10 games of the campaign, De Bruyne made 14 goal contributions and even produced the title-winning pass to the back post for Ilkay Gundogan to tap home against Villa and make it 3-2.
The 30-year-old's reaction after the match showed how much this title meant to him. Red-faced, fists pumping and mobbed by adoring fans, De Bruyne cut an image of pure adulation and relief that all his efforts hadn't been in vain.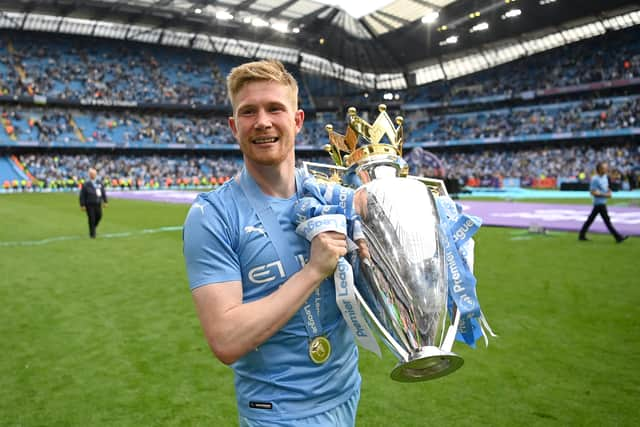 Sharing the goals
Guardiola's ability to lead City to 99 goals without fielding a recognised striker for the majority of the season is an achievement which should not be overlooked.
The absence of a centre-forward meant all of City's star men needed to chip in with goals. De Bruyne led the way with 15, but there was Raheem Sterling with 13 and Riyad Mahrez's 11.
In fact, eight players managed more than five goals across the campaign, including Rodri who netted a hugely impressive seven.
Dealing with the pressure
As fantastic as City were in the second half of the season, Liverpool were just a shade better. Klopp's Reds dropped points in two of the final 18 league matches, while that total was five for City over the same period.
But it was more than just results and form guides, there was a sense of unrelenting momentum surrounding the Merseysiders, helped by their cup successes and the new life breathed into the team by the January arrival of Luis Diaz.
Yet, City managed to hold off the challengers and didn't wilt under the pressure of Liverpool's imperious form.
After returning from the international break in March, excluding the 2-2 draw with Liverpool at the Etihad, City dropped points just once and managed to keep their cool as the 19-time English champions lay in wait.
That game against Liverpool
When City hosted Liverpool in early April, Sky Sports sold it as the biggest game in the history of the Premier League, one that would surely decide the outcome of the title.
While some scoffed, it ultimately proved to be true. A 2-2 draw suited City more so than their rivals, and meant they were in the driving seat over the final weeks of the season.
In those last 14 joint games (seven respectively) Guardiola and Klopp's charges matched each other, winning six and drawing one apiece - again, testament to the incredible standards they set.
We'll never know how the battle could have differed had Liverpool won at the Etihad and been handed the initiative in the race for first place, but City emerged from that encounter with their destiny in their own hands and never looked back.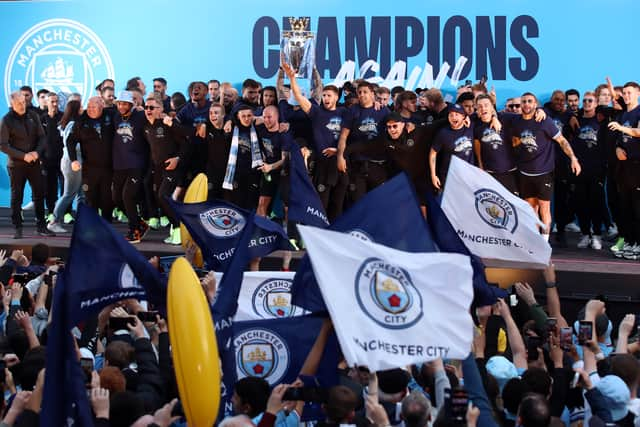 Determined defending
For all the eulogising over City's attacking play, it was ultimately their defence which proved vital in clinching this title.
The Sky Blues conceded just 26 goals over the course of the campaign, and kept 20 clean sheets - ironically, an identical record to Liverpool.
City amazed fans and neutrals with their breathtaking offensive football, but the team's solid backline provided the platform for them to operate in such commanding fashion.
Plugging the gaps
In 2021/22, Guardiola demonstrated levels of improvisation even he has never before needed in his distinguished career.
City, for all their resources, operated with a relatively small squad for most of the season, which consisted of 17 senior outfield players. At times, a spate of injuries took their toll, particularly in the last few weeks of the campaign, with five of seven defenders suffering from some form of issue in May.
But Guardiola always found a solution. No centre-back? Fine, Fernandinho will fill in. No right-back? Fine, John Stones is on hand. No left-back? Fine, Nathan Ake will step up. No striker for an entire season? Fine, let's rip up the tactical rule book and play without one.
It was Guardiola's genius that once again led City to first place.