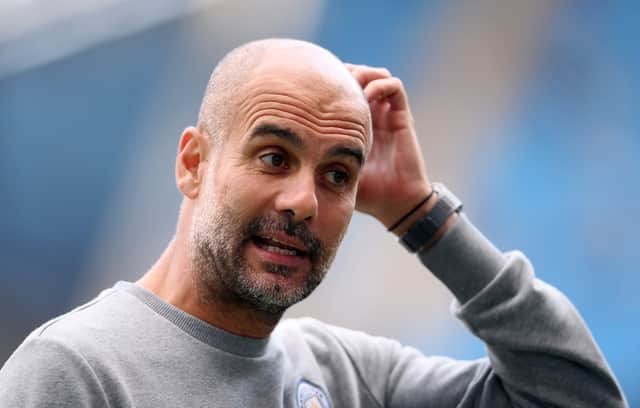 Manchester City manager Pep Guardiola Credit: Getty
Pep Guardiola insisted Chelsea's run of victories over Manchester City last season – culminating in the Champions League final – will have no bearing on Saturday's Premier League clash between the title contenders.
Thomas Tuchel enjoyed victory over Guardiola three times in short succession at the end of last term, first in an FA Cup semi-final and then in the Premier League at the Etihad Stadium before lifting the European Cup.
"We will prepare for the game like we prepared for Southampton and the previous games," Guardiola said. "Every game is a new challenge and an opportunity to improve and an opportunity to learn and do it better.
"It is not a final, it is completely different than the previous games. The FA Cup was a (semi-)final, a tight game and we lost it. The Premier League was already done, we had won (the title) already, we were almost champions, and of course the Champions League was a massive, massive game.
"We try to learn, now it is a new competition."
The match at Stamford Bridge is the first of a testing week for City, who then head to Paris St Germain in the Champions League before an appointment at Anfield next Sunday.
"It's one more game," Guardiola said. "We prepare the game on the strong points we have and see what we can do to be better.
"That's the mindset we have. It will be the same against Paris St-Germain and Liverpool before the international break."
City go into the tough run still dealing with a number of injury problems. Guardiola handed six teenagers their debut in Tuesday's 4-1 win over Wycombe in the Carabao Cup – with many of the changes enforced.
Kevin De Bruyne will want to score against his former club. (Photo by Gareth Copley/Getty Images)
John Stones, Aymeric Laporte and Rodri all returned to training this week and could come into contention, but Ilkay Gundogan and Oleksandr Zinchenko are expected to miss out again.
"We still have a few injuries," Guardiola said. "Some of them have come back a little bit in training and tomorrow we will decide if they are ready to play or not."