James Milner incident: Man City chief Pep Guardiola, Liverpool boss Jurgen Klopp and Jamie Carragher have say
The versatile Reds veteran had a tough afternoon against the Premier League champions and could have been sent off.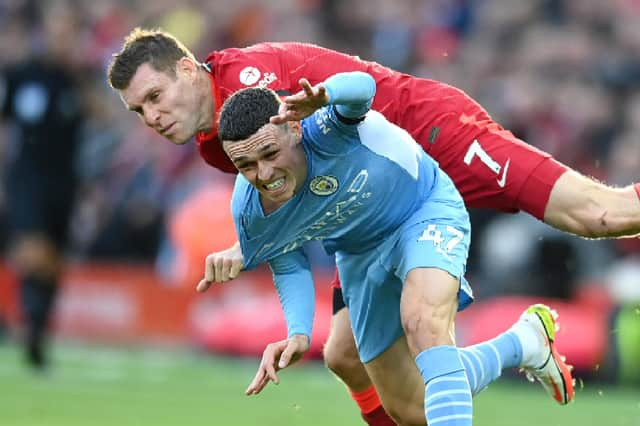 The veteran 35-year-old again deputised for the injured Trent Alexander-Arnold at right-back after a fine performance in the Reds' 5-1 victory over Porto in the Champions League last Tuesday.
However, Milner had a tough afternoon against the Premier League champions.
City felt they should have had a penalty in the first half when Milner collided with Phil Foden before he picked up a yellow card towards the interval when cynically bringing down the England international.
And in the second period, visiting boss Pep Guardiola was left incensed on the touchline when Milner avoided a sending off. He scythed down Bernado Silva, although referee Paul Tierney did not book the ex-Leeds United man.
Milner was substituted for Joe Gomez moments later, although his withdrawl arrived after playing a part in Mo Salah's goal to put Liverpool 2-1 ahead.
Here's what those closest to the action made of the controversial incident.
Liverpool manager Jurgen Klopp
I don't know. There was a situation when Pep was a little bit outraged.
I didn't see that. I saw Pep's reaction but I didn't know exactly why he did that.
The plan, anyway, was to take Millie off. Millie did incredibly well in the first half.
It's not easy to defend [against] these guys. They're already really good but if you defend as bad as we did in the first half then you are very open.
He did well and nothing changed.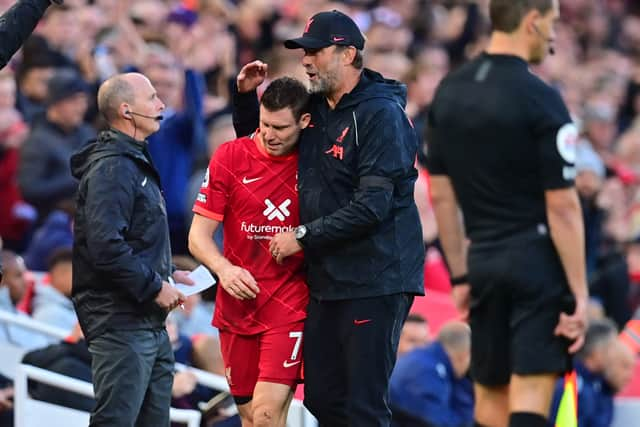 Man City boss Pep Guardiola
It's a yellow card. It's a yellow card.
In this situation, a City player is sent off. One-hundred per cent.
It was a second yellow card.
Sky Sports pundit Roy Keane
It doesn't matter what the scoreline is, the referee has got to make the right decision.
If Milner is not on a yellow card, he gives him a yellow card for that.
The reaction, you see Pep, he'll be frustrated. He'll feel every time he comes to Anfield, a decision goes against him.
Sky Sports pundit Micah Richards
It's ridiculous. We have to be impartial.
That is a yellow card. The referee has had an absolute shocker. I don't understand how that's allowed to happen. We could see from up here that it's a yellow card.
How can he not be giving that decision? It's baffling and annoying, to be honest.
People know how hard it is to come to Anfield. It's one of the toughest places to come to in Europe. He was influenced by the crowd today. I'm saying that. How can that not be a yellow card?
James Milner is one of my best mates but we have to tell the truth about the situation.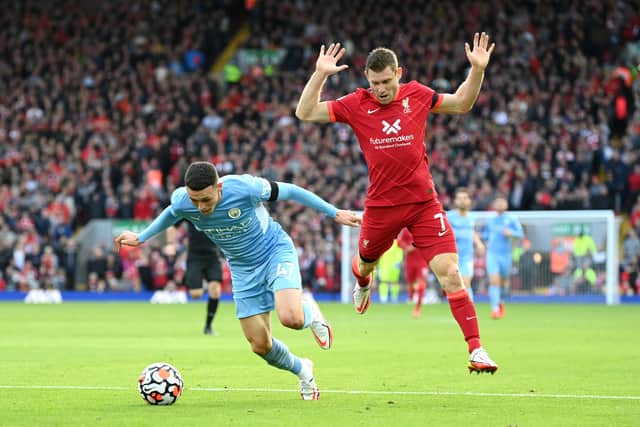 In the end, the game was 2-2 so it'll be put to bed. But he should have been sent off and it would have changed the context of the game.
Sky Sports pundit Jamie Carragher
That's why I said at half-time I would have brought James Milner off.
Milner's second-half performance was really good considering he was on a yellow card. He pressed high and I didn't think he'd be able to have those energy levels.
He should have been sent off and the whole team knows that as soon as you make a substitution.
As soon as that foul happens, you know Joe Gomez is coming on.
That was my fear at half-time and I'm surprised it took that long.