Guardiola gives thoughts on Milner booking & reveals what they discussed post match in the tunnel
The City coach wasn't happy with the decision not to send off the Liverpool man and was asked about that incident after the game.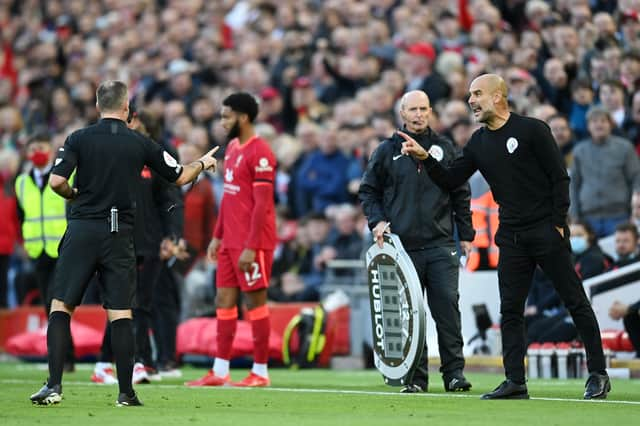 Pep Guardiola feels referee Paul Tierney will reflect that he made an incorrect decision in not sending off James MIlner during Manchester City's 2-2 draw with Liverpool on Sunday.
The Premier League champions played out a great second half against the Merseysiders in which Jurgen Klopp's men twice took the lead from Sadio Mane and Mohamed Salah, only for Phil Foden and Kevin De Bruyne to equalise twice.
However, the game's biggest talking point came at 1-1 when Milner, already on a booking, cut down Bernardo Silva and was very fortunate not to receive a second yellow card.
Guardiola was furious on the touchline and was seen gesticulating to fourth official Mike Dean, throwing himself down on his seat, chucking off his jacket and ultimately receiving a yellow card himself from Tierney.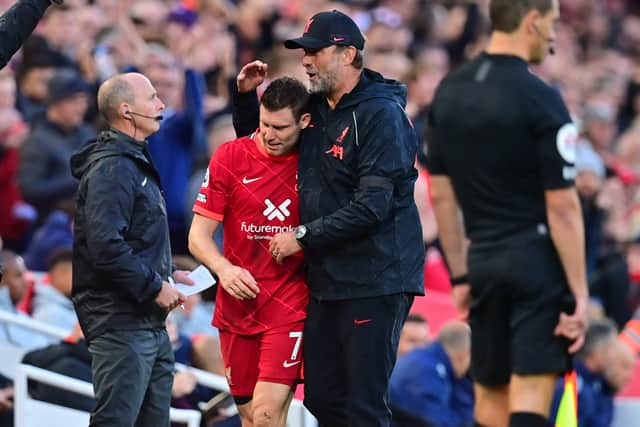 However, Guardiola was in a better mood post match when he was seen chatting to Milner in the tunnel, and the former Barcelona coach was asked what they discussed, during his press conference at Anfield.
"Our swings! He's a better golf player than me and he gave me some tips about golf," Guardiola responded.
"He's a nice lad. We were not together in Manchester, when I arrived he went to Liverpool, but I know from the staff what a nice lad he is. We talked about the game a little bit, the yellow card, that's all. He was joking."
Guardiola went on to explain just why he was so angry not to see a second booking for Milner, although he did admit Liverpool were still capable of winning the game with 10 men.
"It's a yellow card. If he was not [shown a] yellow card it is because maybe he believed it's too obvious to be a yellow card," opined the 50-year-old.
"He has to show me the yellow card. But in these type of games where the margins are so tight and both teams are so good this is a massive difference. That does not mean 10 v 11 at Anfield you are going to win, but it's too obvious.
"I know everyone has emotions and it's not so easy to do it at Anfield, or Old Trafford - I know that. But it's too obvious this action. It's too clear to not give James a second yellow card."
Was the Anfield crowd a factor?
Pushed further on his thoughts, Guardiola was keen to express his view that Tierney did not shirk making the decision due to the raucous Anfield crowd, instead suggesting the pressure of such a big occasion may have affected Tierney.
"No, don't misunderstand me. Referees have emotions and when he sees the action he will know that it was a yellow card.
"I understand the pressure for everyone; the referees have the pressure, the players have the pressure, so the decision has to be made in one second. But this is too much. These actions, maybe yes, maybe no, but this one was so clear and [with] 20/25 minutes left and at that moment we were 1-1. When they score for 2-1, from the position of James Milner's area.
"Now I am more or less satisfied because we draw, but we could have lost this game from this action and I will be more angry. But the referee knows it was a yellow card."