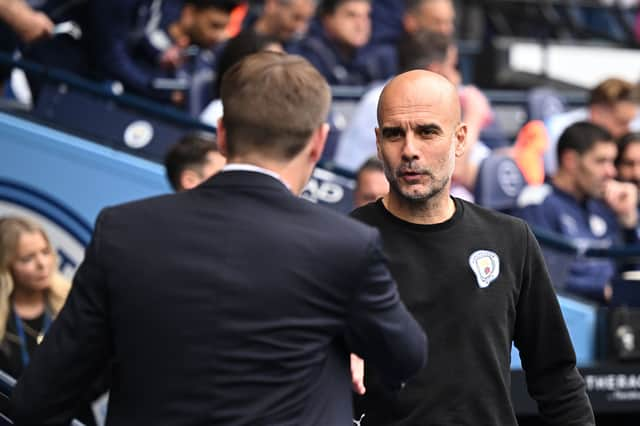 Pep Guardiola has apologised to Steven Gerrard for his 'stupid comments' made on Friday regarding the former Liverpool captain's infamous slip in 2014.
The Manchester City manager sarcastically questioned last week whether his side were to blame for the incident nine years ago when Gerrard's error led to Demba Ba scoring for Chelsea, a moment which proved hugely significant in City winning the title.
"I don't know if we are responsible for Steven Gerrard's slip in that situation in Anfield - I didn't want it for respect for Steven Gerrard, but is it our fault? C'mon, that [2014 title] belongs to us," Guardiola said, as he faced questions regarding the allegations of rule breaches made by the Premier League.
But ahead of Wednesday's Premier League clash with Arsenal, the former Barcelona manager apologised for those words and revealed he called Gerrad personally to say sorry. He said: "I apologise to Steven Gerrard for my unnecessary and stupid comments I said the last time about him. He knows how I admire him and his career for what he has done for this country I am living in.
"I am ashamed of myself for what I said because he doesn't deserve it. I truly believe my comments I said in my previous conference that I defend my club but I didn't represent my club well by putting his name in this stupid comment. I apologise to him and I said it to him personally, but I comment publicly as well. I am so sorry to him, his wife Alex, kids and family."
"We will train this afternoon, yesterday a recovery day and that's all," Guardiola said, when asked for a fitness update on the stiker.
Haaland is expected to be fit for the game, but Julian Alvarez offers a replacement if he is absent. John Stones is the only confirmed City injury ahead of the top-of-the-table clash.