Gary Neville outlines one big difference that could see Liverpool pip Man City to the Premier League title
The former defender feels Liverpool have a major advantage over Manchester  in the race for top spot.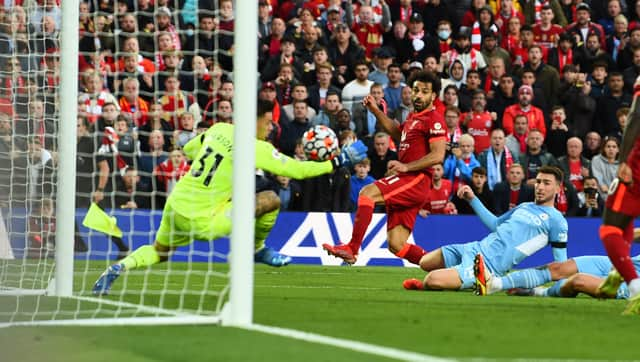 Mohamed Salah scores past Ederson in October's meeting between Liverpool and Manchester City.
That means Liverpool could move to within a point of City at the top of the table, should they beat Arsenal on Wednesday night.
It was a frustrating night for City, who lost ground in the title race. Credit: Getty.
The Reds are in impressive form and have won the last eight league games, and Neville feels this is largely due to having five top-class finishers in their ranks.
In contrast, for City, much of the talk continues to centre around whether they have to add a striker to their squad, with Phil Foden playing as a central striker in the Palace stalemate.
Gary Neville feels Liverpool's attackers could win them the title. Credit: Getty.
"You're talking about fine margins when you talk about these great sides who are going for the Premier League title," he said on Sky Sports' Monday Night Football.
"You're not talking about massive differences between them. There's nothing wrong with Pep Guardiola's team, they played a brilliant game tonight. The one thing I would say though, if Liverpool play that game, they win that game because they've got better strikers. Better strikers in terms of scoring goals.
"They're more ruthless finishers and there's more of them, there's five there I would all put my money on. But with City, they are like midfielders or wide players playing in those positions.
Salah and Mane's goals might have a big part to play in the weeks to come. Credit: Getty.
"Phil Foden could be a midfield player, but is playing centre-forward. Jack Grealish could be a midfield player, but is playing left side of three up front. You've got players in that team who are absolutely outstanding, they're fantastic players, but they're not the most ruthless and clinical.
"As brilliant as they are, and as great as they are, the difference at the end of the season could just be that Liverpool do have more strikers who are more clinical and are more suited to scoring goals.
"We've known that all season with City, the only thing that could let them down is that. City are top of the league, but they haven't scored four times [in the league] this season. Liverpool have only not scored in a game once.
"At the end of the day, both teams are the highest level, and you're talking about what is the difference between them? [Luis] Diaz has come in, in January, [Diogo] Jota, [Roberto] Firmino, [Sadio] Mane, [Mohamed] Salah, all there.
"Liverpool are going to score goals, Liverpool are on an unbelievable run. City could still win this league, no doubt, but that could be the difference.
"I think Liverpool are really dangerous," he added, "You look at those five strikers they've got and you're going into the last part of the season knowing that you can win an awful lot of football matches with those two up front. Whereas City don't have that same luxury in attacking areas."