Fifa players have been delighted with the release of the first batch player ratings for Fifa 23.
Gamers can now see the ratings of many players for teams across the game, including some Manchester City stars.
Here's the ratings of some of the City players, including Kevin De Bruyne and new signing Erling Haaland.
Who is the most highly rated Manchester City player on Fifa 23?
Fifa 23 is nearly here, and City fans can now see who is the most highly rated player for their side in the new game.
Kevin De Bruyne is the best-ranked City star, with an overall rating of 91. He has 74 pace, 88 shooting, 93 for passing, 87 dribbling, 64 defence and 77 for physicality.
Full Manchester City ratings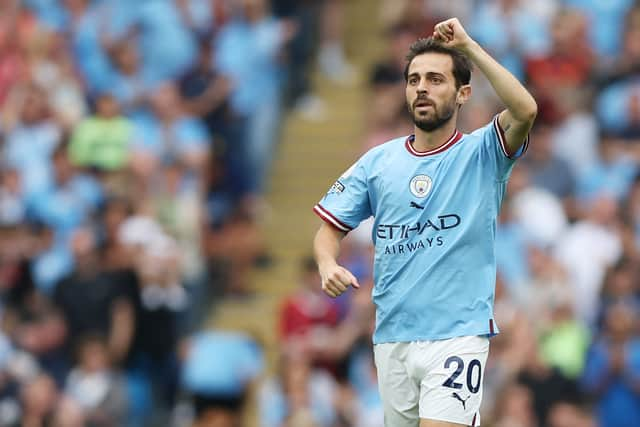 The full ratings will be announced over the coming days by EA Sports.
Erling Haaland's rating has been announced as 88, with 89 pace, 91 shooting, 65 passing, 80 dribbling, 49 defence, and 87 physicality.
Goalkeeper Ederson has been given an overall rating of 89, 87 for pace, 82 for shooting, 93 for passing, 88 for dribbling, 64 for defence and 88 physicality.
Defender Aymeric Laporte is 86 overall rated with 61 pace, 50 shooting, 72 passing, 69 dribbling, 86 defending and 79 physicality.
Rodri is 87 overall rated with 58 pace, 72 shooting, 78 passing, 79 dribbling, 83 defending and 84 physicality.
Portuguese midfielder Bernardo Silva has been given an overall rating of 88 with 77 pace, 78 shooting, 84 passing, 92 dribbling, 61 defending and 68 physicality.
Defender Rúben Dias is 88 overall with 63 pace, 39 shooting, 66 passing, 68 dribbling, 88 defence and 88 physicality.
João Cancelo also has an overall rating of 88, and this goes with 85 pace, 73 shooting, 85 passing, 85 dribbling, 81 defence, and 73 physicality.
When is Fifa 23 released?
If you pre-order from Game, the website states that with your pre-order you get:
Team of the Week 1 player item
Untradeable Player item for your FIFA Ultimate Team. 
Kylian Mbappe Loan Item for 5 FUT matches. 
FUT Ambassador Loan Player Pick: Choose from Davies, Son or Vinicius Jr. for 3 FUT matches. 
Career Mode Homegrown Talent: Local youth Prospect with world-class potential.
This article contains affiliate links. We may earn a small commission on items purchased through this article, but that does not affect our editorial judgement