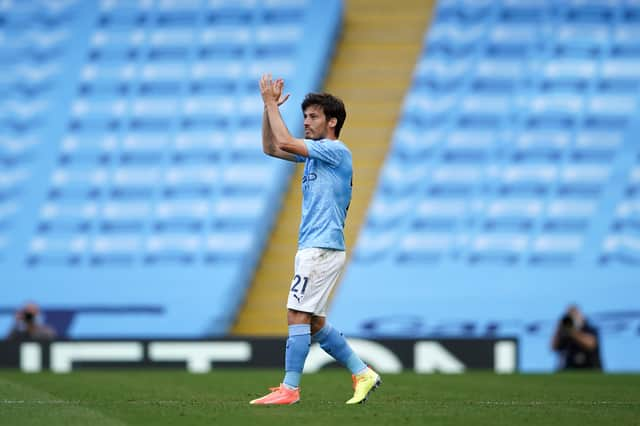 David Silva. Credit: Getty.
Ahead of Saturday's Premier League game between Manchester City and Arsenal at the Etihad, the hosts are set to unveil statutes dedicated to David Silva and Vincent Kompany.
For the former, he played a pivotal role in City's first title triumph in 2012 and excelled further under the guidance of Pep Guardiola.
But why exactly is Silva so loved by Blues? We asked four supporters that very question...
"I think he's City's greatest-ever player. He was an absolute magician. He was just a player who led by example. He was consistently a fantastic player. You had to just admire and sit back and think 'wow, this guy is a genius'.
"He was so brilliant; he had everything to his game and he could create something out of nothing. David was always happy in Manchester and to sign him for £24m and then keep him for that long without any real issues is incredible.
"He was just a wonderful player and we were so lucky to have him for so long. He kept getting better with age and maybe some credit needs to go to Pep Guardiola for that. It's incredible he didn't really decline when he moved into his 30s - a few fans even wondered why we were letting him go at the end. It's hard to sum up how good he was. When you look at the stats he might not be top of the Premier League greats, but he just produced consistently and he was a fantastic player."
"David Silva's time at the club is littered with truly magical moments. The calmness and quality he brought to City's midfield is something we've never seen before. He was simply the perfect Pep Guardiola player. The high intensity, beautiful chaos of Kevin De Bruyne was perfectly paired with the calculated brilliance of David Silva. And that's one of the main reasons why we've been so successful under the Catalan."
David Silva played over 400 games for City. Credit: Getty.
"He's the best player I've ever seen in a City shirt, by far! He was just unreal. He was just so underrated and he is definitely up there as one of the greatest players in the Premier League. For the size of him as well, he never got bullied.
"I don't think we'll see a player like him in the Premier League for a long time. He was magic. He was very humble; kept his head down and did his job. He was never really seen in the media but everyone appreciated what he did for City."
"David Silva delighted from his first match as a City player, with his repertoire of skills unlike anything most fans had seen. He's a man who has touched the hearts of every single City fan.
"Silva was incredible in City's first title win [in 2012], despite playing a position nobody really associates him with. In his early Manchester City career he was often used as a wide midfielder, playing in a 4-2-2 alongside Samir Nasri. The pair were incredible and were pivotal to some of the key victories throughout that campaign, not least in the 6-1 demolition away at Old Trafford."
What about a favourite moment?
Matty: "That assist against Wigan will probably be my favourite, where he took on about three players and he just did a perfect through ball into [Sergio] Aguero. It was just delightful. Not a lot of people will know about that moment, but there were about three players round him."
Harry: "It's not particularly a moment, but his level of performance from November 2017 to May 2018, while his son Mateo was born extremely premature, was something special. Silva was streets ahead of anyone that season and was unfortunate to miss out on the PFA Player of the Year Award."
Ryan: "He scored some worldies but it was his passing that stood out. His Blackpool goal was great, but that touch and volleyed through ball to [Edin] Dzeko [in the 6-1 win over United] - I've never seen anything like it. For me that was top-tier Silva. It was like he had eyes in the back of his head."
Amos: "I'd probably look towards the 2017/18 campaign for my personal favourite Silva memory, despite it not even happening on the pitch. After news broke that his son Mateo had been born with health complications, it was a tough time for all Blues, yet thankfully he recovered and all was well. Silva posted an emotional video on social media thanking the footballing world for their support and, the following season, he even carried Mateo out as a mascot. There were a few goosebumps and tears that day."