Erling Haaland's contract at Manchester City has come under real examination in recent weeks. Perhaps that's what comes with being the Premier League's most talked about star, with the Norwegian taking the English top flight by storm since his summer arrival from Borussia Dortmund.
Haaland has already reached the 20-goal mark in all competition for the Blues, from just 13 matches, and he's scored three hat-tricks during his primitive days in the Premier League.
It's this imperious form that has led to so much speculation about his contract, with the Daily Mail recently claiming Haaland is earning nearly £900,000 a week through very achievable bonuses. Meanwhile, there was recent speculation that Haaland has a clause in his current deal that will allow him to join Real Madrid in 2024 for £175.5m.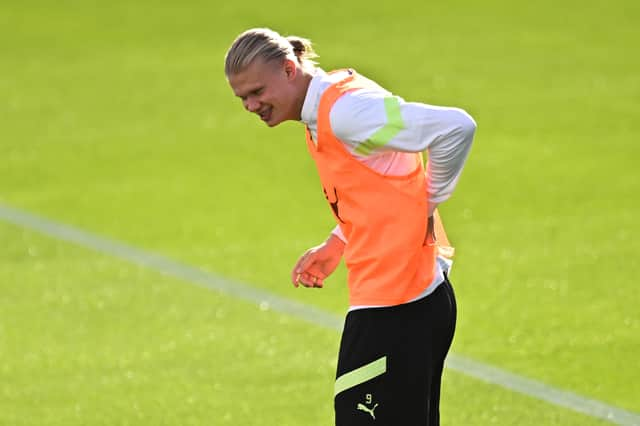 However, this is something that Guardiola denied, with the Catalan stating: "It is not true. He doesn't have a release clause for Real Madrid or any other team," following City's 5-0 win over Copenhagen last week.
But The Athletic now reports there is indeed a similar release clause in Haaland's contract, although one that doesn't apply to any specific team.
They claim: "Haaland has a €200million (£175.5m) release clause that kicks in from the summer of 2024, when he will be two years into his City deal. Its value then decreases as his five-year contract nears its end."
The Athletic added this clause does not apply to English clubs, making a transfer to a rival Premier League side 'almost impossible'.
They also report Real Madrid and Barcelona 'might knock on the Etihad's door' but there's doubt the clubs would be able to pay the required funds.
Haaland joined City this summer for a relatively nominal fee of £51m, a price City paid due to the striker having a release clause in his Dortmund contract.
Given that in his youthful career Haaland has already completed four transfers, it would not be a surprise if he were to harbour ambitions of moving on from the Etihad at some point over the coming years.