Joao Cancelo believes Phil Foden has the potential to become one of the best players in world football.
Cancelo spoke about a wide range of topics and revealed his admiration for Foden and the rest of his City team-mates.
"Phil Foden is going to be one of the best players in the world, if not the best," he said.
"The atmosphere around the first team is fabulous and I think that is one of the key factors that made us win so many trophies lately.
"I think this team has great potential," he added. "When you see the starting XI and the players that are on the bench, you can see the amazing squad we have by how many quality players are left out of the starting eleven.
"You can play with 11 players and change the whole team for the next game, and we don't lose quality. "That factor makes us better players because we have competition in the team."
Cancelo's initial struggles
While Cancelo is currently operating as one of the most impressive full-backs in the league, that wasn't always the case.
The Portuguese defender struggled to find consistent form when he first joined Pep Guardiola's side in 2019, and he admitted he initially feared he'd made a mistake when he swapped Juventus for City.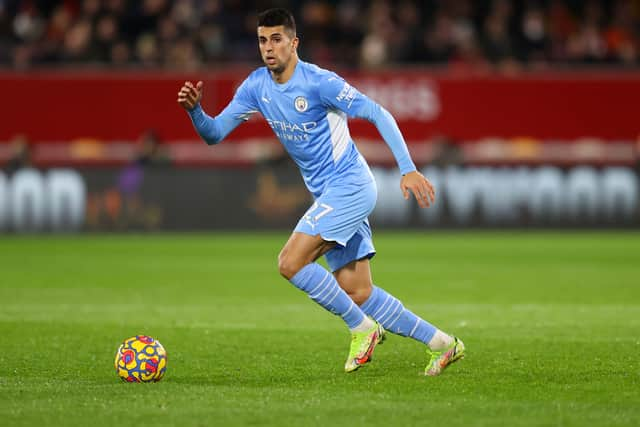 "In my first months, I wasn't extremely happy about my decision to join Manchester City," explained the 27-year-old.
"I came from a club that I also like a lot, Juventus. I spoke to my girlfriend, and we agreed that I had to make the best out of myself to be able to play.
"As of December-January onwards, I started playing regularly so that makes a player happier. We players always want to play, but always with the aim of helping the team to achieve its goals.
"Since I arrived, Bernardo Silva has been a great friend to me and a great support to me, both for me and my family.
"I have known him for a long time, we have built a good friendship since we were young.
"He has helped me a lot here. Also, I knew Ruben Dias from Benfica, but not as much as I knew Bernardo. Bernardo is from the same generation as I am."