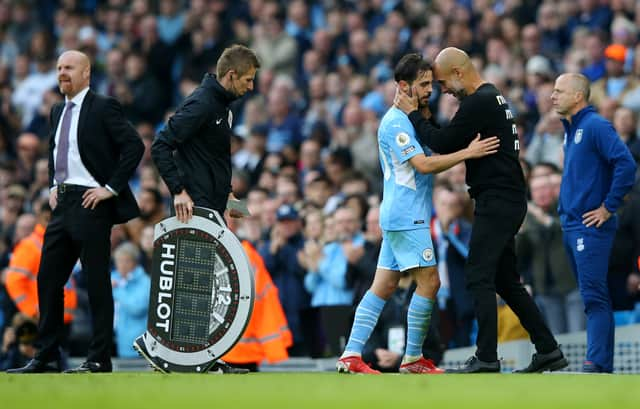 Silva is replaced late on against Burnley. Credit: Getty.
Pep Guardiola has praised Bernardo Silva's 'extraordinary' form after the midfielder put in a man-of-the-match display as Manchester City beat Burnley 2-0 on Saturday.
Speaking after the game, Guardiola said Silva is back to his best form in a City shirt and outlined one other reason he's thriving in the centre of the park.
"He's in his best form alongside Rodri. Both played so well in the last four or five games after the beginning of the season," the Catalan told reporters in his post-match press conference.
Silva netted the opener after 12 minutes at the Etihad. Credit: Getty.
"Bernardo [is playing at] the level of the [2018/19] season when we got 98 points [in the league], and that was out of this world the way he played. Defensively and offensively, he's so intuitive.
"What he has to do with the ball is to give us that extra touch to glue it all together. He never loses the ball and today he scored a goal which is important for him. The performances of Bernardo have been extraordinary.
"We are incredibly lucky to have him. All I want is his happiness," Guardiola added. "This type of person deserves the best and it's a joy as a manager to have him with us. When he doesn't play he's always helping, always trying to do his best and he's at his top level. Right now he's playing at an incredibly top level."
Feeling lucky
It's a far cry from this summer, when Guardiola admitted Silva wanted to leave the club. However, a deal for the Portugal international didn't materialise and he ended up staying at the Etihad, something the City boss is relieved about.
"We know that we want him and we know how we love him," said Guardiola. "I have said many times that I want the best for them and they have to be happy and be here to perform well. He had that feeling, but it [a transfer] was not possible.
"We are so fortunate for that and we are lucky for that because he is a player who is incredibly important for us. He can play in four or five different positions. He's so intelligent, and intelligent players can play everywhere.
"There are players that can play in just this position - 'I am a winger, I am a striker or I am a defensive midfielder'. Bernardo is a football player and a football player can play everywhere. I know there will be lows in the season because it is impossible to maintain this level all season. I encourage him to continue like this because I am pretty sure playing like this, he will be happier and happier to be here with us."
"This is just the beginning"
Silva also spoke to the media after the game and said there's still plenty more to come from him and his City team-mates this season.
"Yeah I'm happy, I'm happy that I'm helping the team, happy with the momentum," he told the club's official website. "But it's just the beginning, we're still in October, we need to keep going, try to go top of the league, try to qualify for the next stage of the Champions League. It's the beginning but we are doing well."
Silva thrived in the right side of a midfield three and combined excellently with his international team-mate Joao Cancelo all afternoon.
Asked about that relationship, the N.20 explained it's one that has been developing long before their time together at City.
"He's a very athletic player, he's a player I've known a long time," said Silva. "I started playing with him when we were both 12 years old together at Benfica for seven or eight years, then we met here.
"Yeah, we have a good relationship and a good chemistry between each other. He's someone that as I said is very quick, athletic, very technical as well. He has a good balance of how to defend and attack and he's in very good form right now. Hopefully he can keep doing well. I'm very happy for him."