As Grealish & Sterling fail to shine, what can Pep Guardiola take forward from the loss to Paris St Germain?
We've got seven hot take aways from Tuesday's loss in Paris for Pep to mull over.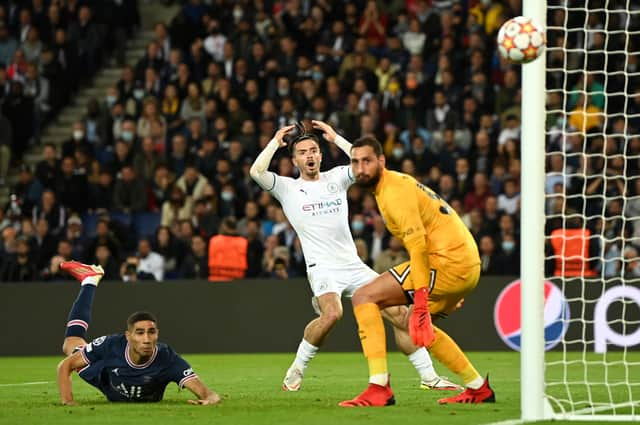 Jack Grealish misses a chance for Man City. Credit: Getty.
Manchester City came away from Paris with nothing in a captivating and high-quality encounter at the Parc des Princes on Tuesday night.
Goals either side of half-time from Idrissa Gueye and Lionel Messi ensured it was Paris Saint-Germain who picked up a first Champions League win of 2021/22.
Yet the 2-0 scoreline to the home side doesn't begin to tell the story of this game, which should give Pep Guardiola both reasons for optimism and concern...
Messi scored his first PSG goal on Tuesday. Credit: Getty.
So near, yet so far
The group-stage showdown was a match of fine margins, one which on another day could have swung in City's favour.
Both sides enjoyed spells on top and had Messi not done what he does best in the 74th minute, the Blues looked in a good position to nick a late equaliser. That City registered more shots, passes and higher possession speaks volumes for the flow of the game, although that's not to downplay PSG's impressive display.
When two phenomenal sides do battle, sadly one often ends up on the wrong side of the scoreline, but Guardiola should take heart from their solidity, tempo and passing range throughout the game.
It's something the City boss even referenced after the match: "We did everything," he said. "Donnarumma was fantastic. The quality of the players they have, we minimised for our game Neymar and Messi being in contact with the ball and did not let [Kylian] Mbappe run in behind. But at the end 2-0, last 10 minutes we were more desperate with less control."
Defence rules
With all the attacking quality on show, it's ironic that the star performers on the night were defensive-minded players. Achraf Hakimi kept Jack Grealish quiet, Marquinhos marshalled the PSG backline excellently, Marco Verratti was everywhere, while ultimately Gueye picked up the Man of the Match award.
As for City, their defence, by and large, limited PSG's attacking trident to half chances, excluding in the latter stages as they pushed forward in search of an equaliser. On the night, Rodri was probably their best player and he continuously broke up opposition attacks, while also being more than handy when in possession.
A tough night for Sterling & Grealish
While Messi and Co ultimately exploited the smallest of gaps in the opponent's backline, City simply couldn't. This was in no small part due to an ineffective showing from Raheem Sterling, which is starting to become an alarming trend in the England international's club game.
Tasked with playing up front, there was no lack of effort or innovation in Sterling's performance, but everything he tried failed to produce any meaningful results. His runs in behind the PSG defence were creative, but the shots and dribbles they faced from Sterling caused little concern. The 26-year-old was substituted in the second period and looks bereft of self belief at present.
Sterling hit the bar in the first half. Credit: Getty.
The same cannot be said of Grealish, who never shirked his responsibility at the Parc des Princes, but the former Aston Villa man was dealt a harsh reality in the standards needed in Europe's top competition.
Perhaps it was just an off night for Grealish, who undeniably is ready to play at this level, but he was dispossessed too often and got almost no joy out of Hakami. The winger even failed to win his usual plethora of free-kicks up against the wily Moroccan, or former Manchester United man Ander Herrera.
Lacking that spark
While Grealish wasn't poor on Tuesday, his output dropped well below its ordinary level and he failed to produce any chances of note for his team-mates. Without the No.10's creativity, much of the burden fell on the shoulders of Kevin De Bruyne.
It's something the Belgian is well used to, but he suffered an off night up against the energetic midfield trio of Verratti, Gueye and Herrera. It's been a criticism of City which has cropped up before, but the Premier League champions do too often rely on the brilliance of De Bruyne to bail them out of tight spots.
Without the 30-year-old or Grealish pulling the strings, City struggled to create clear-cut chances, although Riyad Mahrez and Joao Cancelo did find gaps in the PSG defence in the second half, which Sterling and De Bruyne failed to capitalise on.
De Bruyne had an off night in Paris. Credit: Getty.
Swings in roundabouts
It was a busy night for referee Carlos del Cerro Grande, who could - perhaps should - have awarded City a penalty in the first half as Gueye hauled Aymeric Laporte to the ground. Yet surprisingly, neither he nor VAR did.
On the other hand, De Bruyne may count himself lucky to have been on the pitch in the second period after a mistimed lunge on Gueye. In truth, it was probably a red card for the challenge which caught him midway up the calf, although City's talisman escaped with just a booking.
Where does this all leave us?
Elsewhere in Group A, Club Brugge registered a surprise win in Germany as they beat RB Leipzig 2-1. It's a result that leaves them second in the group behind PSG, with both sides on four points. City are close behind on three, while Leipzig have lost both of their opening two encounters.
Despite dropping to third in the group, City should be thrilled with Brugge's victory, as the Belgians are widely considered the weakest side in the group. A three-point gap over Leipzig makes for good reading and Guardiola will still be confident about his side's standing in the four-team mini league.
However, Tuesday's result does give PSG an advantage over City. Clubs finishing second in the group face a tougher last-16 opponent, so the Parisians' early advantage over the Blues is something they must try to reserve over the remaining four fixtures.