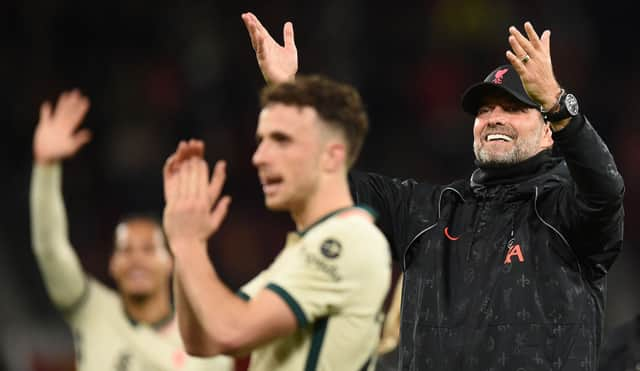 Jurgen Klopp and Diogo Jota celebrate victory at Old Trafford. Photo: OLI SCARFF/AFP via Getty Images
It was a landmark day for Liverpool and Manchester United - for very different reasons.
Mohamed Salah scored a hat-trick as the Reds celebrated what Jurgen Klopp described as an "historic" 5-0 victory at Old Trafford that "won't happen again in a long time, if ever". United manager Ole Gunnar Solskjaer described Sunday as his "darkest day".
It was headline news for both teams. So, how did the national press reports report it? We take a look a Monday morning's back pages.
The Daily Mail's Chris Wheeler wrote: Liverpool fans taunted Solskjaer with a sarcastic rendition of 'Ole's at the wheel' and chants of 'Ole must stay'.
The Guardian's Jamie Jackson wrote: The result was Liverpool's best ever victory at United, and their highest at Old Trafford or Anfield since 1925, with the Merseyside club only once before beating them by a greater margin – in 1895.
In the Daily Express, David McDonnell wrote: United slumped to a humiliating home hammering to arch-rivals Liverpool as the horror show piled the pressure on Solksjaer, whose position is under serious threat.
Writing in The Times, Ian Whittell, also focused on the pressure the result heaped on Solskjaer, who said: "We know we are at rock bottom, we can't feel any worse than this.
In the Daily Telegraph, James Ducker wrote: Jurgen Klopp, the Liverpool manager, admitted the win was "special" but expressed some sympathy for Solskjaer. "The last thing I want to be is in his shoes in this moment," he said.
Writing in The i, Tim Sigsworth said: An undisciplined, reckless and generally uninspired United side were blown away by Liverpool in the club's worst ever home defeat to their traditional rivals.