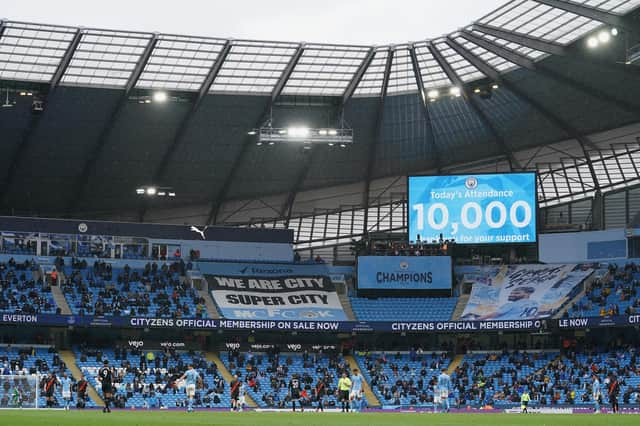 The lifting of the majority of Covid-19 restrictions this summer means English football grounds will once again be able to admit a full crowd for the new season.
That, of course, includes Manchester United and Manchester City, whose first home games of the 2021/22 league should be attended by a sell-out crowd.
For some club supporters, it may be their first time at a game in person for over a year, as the final 20 Premier League matches of 2020/21 operated with only reduced-capacity crowds.
What are the rules in stadiums now?
For now, fans are allowed to attend matches without any real restrictions, although United and City are still asking those in attendance to wear a face covering and regularly sanitise their hands.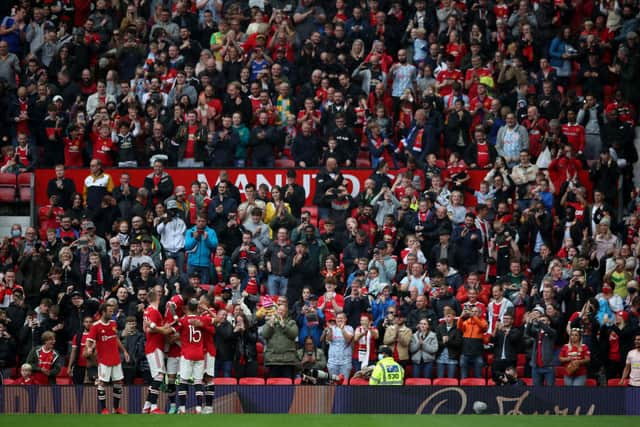 However, the Premier League this week issued a revised statement which warned that random spot-checks could take place at stadiums across the country as the season kicks off.
It said: "From the start of the 2021/22 season, match-going fans should be prepared to show they have been fully vaccinated or have received a negative lateral flow test in the previous 48 hours.
"Fans will be able to do this by obtaining their National Health Service COVID pass through the NHS app or website link.
"Supporters should consult their club's website for information regarding junior fans attending matches."
It continued: "Initially, in the first few matchdays of the season, supporters can expect the introduction of random spot-checks for ticket holders at some grounds as we establish the required processes so clubs and fans are prepared for all match attenders to have their COVID-19 status checked upon arrival, should it become mandatory.
"It is possible the safety measures for matches could be subject to change at short notice. Fans should continue to follow the latest public health guidance and guidance from their club."
When do United and City play at home next?
The Red Devils kick off their new campaign on Saturday 14 August at 12.45pm, with a clash against old foes Leeds United. It's the first time the sides have played each other in front of a top-flight crowd since 2004, and the atmosphere should be electric inside Old Trafford.
As for Pep Guardiola's men, they begin the season with a trip south to take on Tottenham Hotspur. Therefore, supporters will have to wait until Saturday 21 August to see the Etihad host a full-capacity crowd. City welcome Norwich City on this occasion, with kick-off set for 3pm.
Where can I find out more?
We spoke to United and City season ticket holders to hear their thoughts on fans returning to stadiums.
Andrew Kilduff, 45, United season ticket holder: "I think it will be quite surreal. You see people at games who you might not know their first name but you've spoken to them for 10-20 years and it's the only place you see them, at the football, so there will be quite a bit of catching up.
"I think some of the older supporters could be quite aware of their surroundings and what's going on around them. I think it'll take a little bit of time for people to get back into their habits and get used to big crowds again.
"I might not spend as much time in the concourse at half-time as I usually do.
"There will probably be a bit of me wanting to be out in the fresh air. Covid cases are still pretty high and recently United had a game called off because there was a fear that some players might have it. I think we'll see that a lot during the season and I think there will be games cancelled.
"It makes it different for travelling to away games and getting on public transport. It does change how you think."
Matty Dove, 26, City season ticket holder: "I can't even express how excited I am to be back in a full stadium next week. It'll be exciting to see [Jack] Grealish, who will probably make his home debut against Norwich.
"Being back to some normality; going to the pub beforehand, being around people, soaking up the atmosphere. To me, it's just about normality.
"When you have something that's a normal thing in your life and you have it taken away, you appreciate it so much more. I think I'll wake up smiling like it's Christmas Day. I cannot wait.
"Football isn't just a game and over the last 18 months that's been shown. Football has helped a lot of people and it's been a distraction from the horrendous things that have been going on in the world.
"I'm not really concerned about going back to matches, but my only concern would be with the tickets. City are not giving people actual tickets this year and Liverpool's pre-season friendly [against Athletic Bilbao] recently got delayed because of issues getting into the ground. I think it could really go wrong at City and I hope there aren't long queues.
"But in terms of Covid, I'm hopeful that with the vaccines and the lateral flow tests that are required there won't be too many incidents. But it won't be something that's on my mind or I'll be worrying about."
* Let us know your thoughts on the big return before and after the games - email [email protected]