Bareknuckle boxing: meet the debt collector and gym owner taking the sport back to basics
What does it take to become a bareknuckle boxer? We head to one gym to find out about the fast-growing sport and its fighters.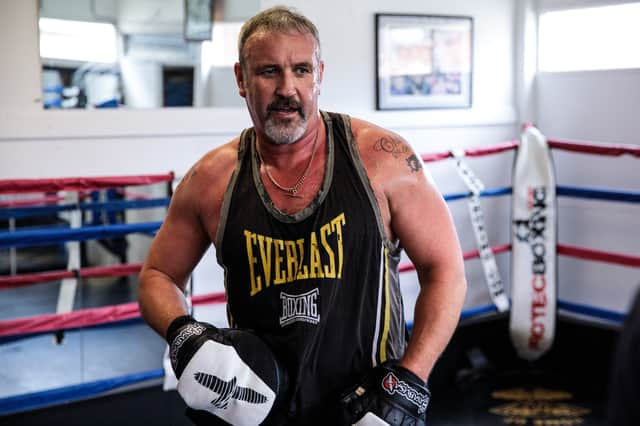 Bare-knuckle boxing promoter and trainer Shaun Smith Credit: Getty
So, what does it take to become a bareknuckle boxer? First, you have face Shaun Smith.
At least, that is the rule at Smithy's Gym – a gritty academy run by Shaun and wife Amanda in Warrington, sandwiched inconspicuously between an Eastern European supermarket and a Catholic primary school.
The club attracts fighters from all over the north, including Bolton and Wigan, and often holds bouts at the BEC Arena in Manchester, including earlier this month.
Stripped down to its rawest form, bareknuckle boxing is bloody knuckles and cracked cheekbones and the sound of bare fists on unprotected skin.
Shaun Smith with wife and colleague Amanda Credit: Getty
But first they have to come to the gym, speak to Shaun - and train with him.
"Look me in the eye, and then I'll decide if you can fight," he said.
Which is no easy task, because the piercing blue eyes that look out of a weathered face with shocking clarity have seen "a lot of s***" – some of it in his other role as a debt collector.
'Mentally not all fighters are ready'
So he doesn't have time for the people who want to do bareknuckle to prove that they're hard.
"Go climb a mountain then", he said. "Anyone can get physically fit for a fight, anyone.
"Mentally you can't. You can be the fittest guy on the planet – I've had ex-Marines, but mentally they're not ready. You can have a fit body, but if you haven't got a fit mind… if one's not right, don't do it.
Other fighters who come from a boxing background stayed with bareknuckle because they felt a rush that was cushioned by the gloves.
"One of our fighters said he sees boxing with a glove as too easy," said Shaun.
"He said, 'I don't feel fear. Although I can still get knocked out, there's not that excitement, that energy, that adrenaline'. So it takes a unique character for bareknuckle."
'It's like a really fast paced game of chess'
And what exactly does it take?
"A big pair of balls," he said. "It's like a really fast-paced game of chess – you only get one hit, so it has to be a good one.
"As soon as you get hit in bareknuckle and you feel that punch, you think 'I want to give it back... You've given me one, I'll give you two back'. Survival just takes over, because it is about a survival – that animal instinct, that will to destroy."
Shaun Smith, pictured previously in his office Credit: Getty
But bareknuckle is no street brawl. If the imagination constructs a lawless land of torn skin and eyeballs out of sockets, it overlooks the discipline and control that is essential to the sport.
"Some people want to do bareknuckle because they see it as the ultimate challenge, but it's controlled striking. There's no holding, it's just fist, fist, fist on your face and your body. People will think, 'I've been fighting in pubs all my life', but it means nothing," said Shaun.
"You've got to be that Jekyll and Hyde; they leave the nastiness in the fight. They'll fight, but after they'll all get drinks together. That's where the respect comes in with bareknuckle boxing."
What is the regulation around the sport now?
If the fighters are driven by an animal instinct, Shaun and Amanda are driven by the fighters.
Which is why they are now battling the British Boxing Board of Control to become the first sanctioned bareknuckle regulator in the UK.
"They won't sanction it; they don't want to know, because there would be an influx of young fighters into bareknuckle, and it's all about business for the BBBC," reckons Shaun, who won't allow under-18s to train.
Either way, he is confident that the sport will grow on its own.
"I brought bareknuckle back to the country, on the television and the internet. Fans are growing, now it's going on pay-per-view. I'm in no rush," he said.
"We're not in it to be millionaires overnight. But I am passionate about fighting, and I'm passionate about looking after people, and that's all it is. Some fighters will just come in and they'll sit with me all day and have a cup of tea while I work."
Will it ever go mainstream?
And if some claim that the sport is too extreme for the mainstream, Shaun thinks they should take a closer look at MMA and professional boxing.
"It's not more gory than MMA where you stamp on people's heads, knee people in the face. That's just a glorified fight in a cage," he said.
Fights under Shaun and Amanda are arranged properly, with drug testing and medics, and fighters wrap a protective cloth around their hands, true to original bareknuckle boxing
"I've been to boxing, MMA, I've been to them all…and bareknuckle is on a different level with the atmosphere and the crowd," said Amanda, Shaun's partner of 19 years and the UK's only female bareknuckle promoter.
The hardmen of bareknuckle run to her if there is any trouble – "they're scared of me," she smiles.
"It's a different breed of people, a bareknuckle fraternity. When it all started, we had all lads coming – now, we have a load of birds coming for a night out."
'Birds' or not, they're all there for the same thing.
"Everyone likes fighting," Shaun said. "We all come from cavemen, we're all survivors.
"People love to see people go down and get back up again and come back. Look at Fury getting knocked out, everyone thought he was finished, and he just came back and it was amazing.
"People just love to see others bleed."