Taylor Swift Speak Now (Taylor's Version): Easter eggs in 'I Can See You' and is 1989 the next rerecord?
We have a new Taylor Swift video so it's time to go hunting for easter eggs and be delusion about her next (Taylor's Version) release
Watch more of our videos on Shots! 
and live on Freeview channel 276
Visit Shots! now
Taylor Swift and her army of Swifties are officially in the Taylor Swift (Taylor's Version) era. This means one thing, new easter eggs hinting at the next project coming from Swift, and a whole lot of theorising from fans.
Swifties are well used to using their eagle eyes to spot any hidden messages Taylor Swift leaves in her songs, music videos and content. The use of easter eggs to communicate with fans is something that goes back as far as her first album, and Swift has called it her 'love language' with fans.
Though, Swift herself admitted she can't seem to keep up with them anymore. Speaking on The Tonight Show with Jimmy Fallon in 2022, the singer-songwriter explained how there are a 'psychotic amount' of easter eggs in her music video for Bejeweled: "We have a PDF file for the Easter eggs in this video because there are so many that we could not keep track," she said. Don't worry Taylor, we have you covered.
Obviously the music video is filled with all things purple, much to the delight of the Speak Now era girlies. However, in true Swift fashion there are endless references throughout the music video. So, what are the easter eggs in Taylor Swift's 'I Can See You' music video? Here's everything you need to know.
Easter eggs you might have missed in 'I Can See You' music video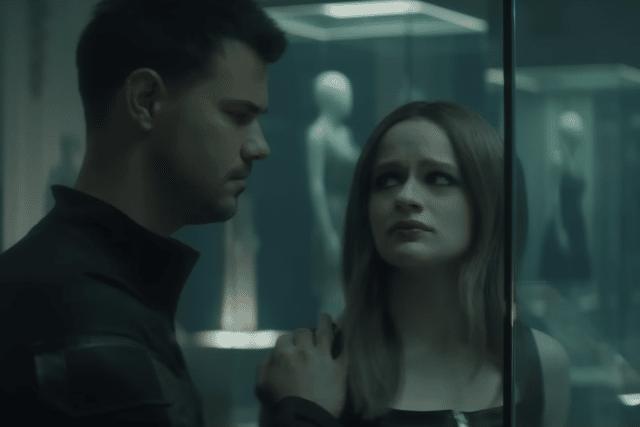 The entire style of the video is an easter egg itself as it follows the story of a heist to steal back Taylor Swift and her masters. A clear reference to the whole reason she is rerecording her first six albums, after her original record label Big Machine Records sold the master recordings of every one of her songs to Justin Bieber manager Scooter Braun. 
The heist theme features three stars trying to steal back the music, aka a gang of thieves, a line from a fan favourite song 'Long Live' originally written about her saying goodbye to her country era. 
The music video features Joey King and Presley Cash who featured in the music video for 'Mean' which was a single from her original release of Speak Now. 
Taylor Lautner features in the music video bringing all the wild stunts, this is probably one of her best easter eggs given the fact that Lautner is the subject of her heartbreaking song 'Back To December'. 
At the very end of the video, the van Taylor and the gang of thieves (Long Live fans know) are seen driving over a bridge. While this may seem like a nice conclusion to the explosive video, Swifties know All Too Well that they need to read deeper. This could suggest the gang of thieves are on their way to break out another album from the vault, and bring in a new era. 
There's another easter egg on the bridge - a road sign is seen with the number 1989 next to the initials 'tv' on which is a big hint that that will be the next Taylor's Version (tv) project. With the layout of the numbers many seem to think the album could be coming out on September 1. This wouldn't be surprising as Swift released her first two rerecords just a few months apart in 2021. 
During shots of Taylor trapped in the vault viewers can clearly see lines on the walls around her, which could signify the amount of days it's been since Swift's masters got sold to Scooter Braun. 
While breaking into the vault, Taylor Lautner is seen showing three purple detonators and putting them on the vault to break out Swift. These represent the three remaining albums Swift does not yet own, or the three she officially does own after the release of Speak Now (Taylor's Version). 
Although there have been many 1989 (Taylor's Version) easter eggs, Reputation girlies haven't been forgotten. The music view features two nods to the 'Look What You Made Me Do' music video, including a close up on her red lips similar to when she uttered the iconic line - 'the old Taylor can't come to the phone right now'.