Taylor Swift Spotify Top 5: Fans can find out what Era they are with interactive experience - how to do it
Swifties across the world can now find out which Taylor Swift Era they are with Spotify - here's how you can find out your top 5
Watch more of our videos on Shots! 
and live on Freeview channel 276
Visit Shots! now
Swifties rejoice as Spotify has unveiled a new experience that gives fans the chance to find out what Taylor Swift Era they are. Whether you are a self proclaimed Folklore fan or a diehard debut enthusiast, your Spotify results may surprise you.
Swift is currently wrapping up the US leg of her Eras Tour before taking it around the world, and has continued to break streaming records across platforms over the past few months. The most surprising part is that the records are being broken with already released songs and the singer recently released Speak Now (Taylor's Version), which is her latest rerecorded album.
The album became Spotify's most-streamed country album in a single day ever, as well as the most-streamed album in one day for 2023 so far. In October 2022, Swift's 10th album Midnights, smashed two more of the digital music service's records.
At the end of 2022 Swift took the top spot for many "Spotify Wrapped" lists for users across the world, and now there is a Swiftie specific experience to determine what your most listened to album from the singer is. The experience is available across 56 markets in 21 languages, and is accessible to Spotify users and non-users alike and will rank your top five most listened to Swift eras which are all Taylor's Version.
Louisa Ferguson, Spotify's head of global marketing experience, spearheaded the new Swift-specific Top Five experience alongside a large cross-functional team of "hard-core Swifties,". Ferguson told Variety: "Something that's super interesting about this moment that we're in right now where we've got a lot of secret Swifties coming out of the woodwork, but also a lot of sort of original fans participating in this moment. You could feel the momentum building."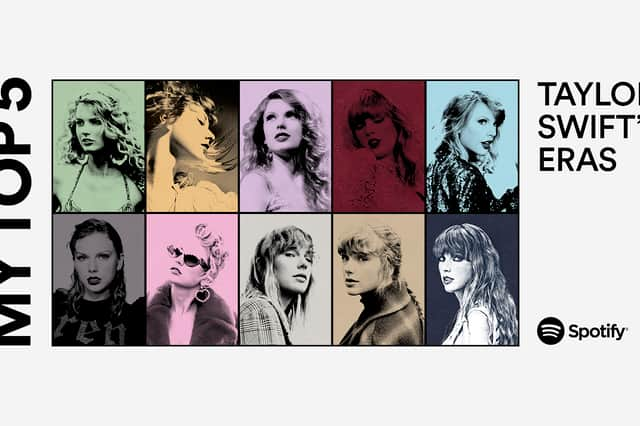 The experience will generate a shareable graphic in the same style as Swift's Eras Tour aesthetic. Based on your listening data, another graphic is generated and will show which Eras you really are. So, how can you find out what Taylor Swift Era you are? Here's everything you need to know.
How to find out your Taylor Swift Era on Spotify
Here's how you can find your top five Taylor Swift Era's
Visit the Spotify Top 5 website on your mobile device
View Taylor Swift's 10 Eras and then re-order them into a visual display, creating your personal Top 5
Then you'll receive a personalised digital card (inspired by the poster for the "Taylor Swift | The Eras Tour") to share and compare your Top 5 with friends—and the world—on your social media