Taylor Swift 1989 (Taylor's Version): Easter eggs explained and will Selena Gomez feature?
We're back in our delusional era as Taylor Swift ends Speak Now (Taylor's Version) adding to rumours that 1989 (Taylor's Version) is coming soon
Watch more of our videos on Shots! 
and live on Freeview channel 276
Visit Shots! now
Taylor Swift dropped her latest rerecord Speak Now (Taylor's Version) just weeks ago, and now seems to have officially put an end to the era. This has sent Swities wild as it could mean a new era is on the horizon.
For those who aren't aware, Swift has famously been rerecording her first six albums, after her original record label, Big Machine Records, sold the master recordings of every one of her songs to Justin Bieber manager Scooter Braun. This meant that Braun would get profits from CDs, and tracks played on platforms such as Apple Music and Spotify.
Swift released her first batch of rerecords in April 2021 beginning with her second album Fearless (Taylor's Version) which was her breakthrough album from country to mainstream featuring some of her biggest songs like 'Love Story' and 'You Belong With Me'. The album included a number of unreleased songs known as 'Vault Tracks' which started a trend that has seen some of Taylor's most successful songs come to light much to the delight of fans everywhere.
Since their release the albums have gone on to outsell and stream their original versions. Fearless (Taylor's Version) has gone on to earn three times as many units as the original, and Red (Taylor's Version) has earned 3.32 million equivalent album units compared to the 390,000 of the original Red album. Speak Now (Taylor's Version) followed in the success of her first two rerecords and went on to have the biggest streaming debut for a country album ever.
With the success of Speak Now (Taylor's Version), fans were expecting the era to last longer than a mere 2.5 weeks. However, just days ago Swift's social media platforms reverted back to the Midnights branding. So of course, Swifties are already back in their delusional era (myself included) and are now convinced that another re-record announcement is imminent.
This wouldn't be surprising as in 2021 following the release of her first rerecord Fearless (Taylor's Version), Taylor dropped her second rerecord, Red (Taylor's Version), just a few months later. Not to mention all the easter eggs that featured in Swift's music video for Speak now (TV) vault track 'I Can See You'.
At the very end of the video, the van Taylor and the band of thieves (Long Live fans know) are seen driving over a bridge. While this may seem like a nice conclusion to the explosive video, Swifties know All Too Well that they need to read deeper. This could suggest the gang of thieves are on their way to break out another album from the vault, and bring in a new era. Additionally, the road sign is seen with the number 1989 next to the initials 'tv' - a big hint twards the next Taylor's Version (TV) project. With the layout of the numbers many seem to think the album could be coming out on September 1. This wouldn't be surprising as Swift released her first two rerecords just a few months apart in 2021.
So, why are Swifties convinced 1989 (Taylor's Version) is coming sooner than we think? Here's everything you need to know including why fans also think a Selena Gomez collab is coming.
Taylor Swift 1989 (Taylor's Version) Easter eggs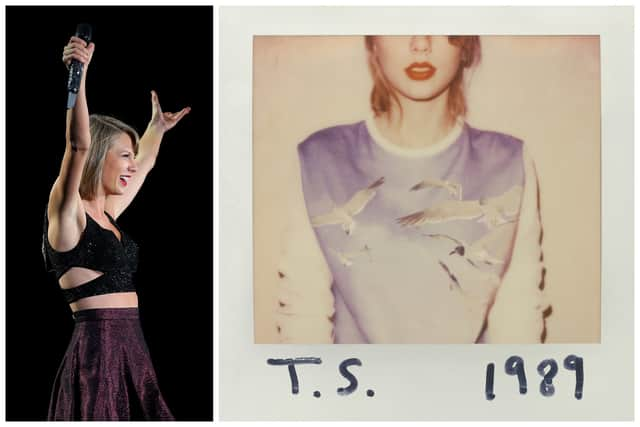 The excitement really started picking up speed when Swifites found receipts of Taylor trademarking 1989 (Taylor's Version), she also trademarked Reputation (Taylor's Version). Then it was revealed Selena Gomez's brand Rare Beauty had invited influencers to The Eras Tour on 3 August, which happens to be on the final weekend of the tour, a perfect time to make a new announcement.
Of course, Swifties didn't stop there, upon further investigation we found more easter eggs from October 2022. Ahead of the release of her tenth album 'Midnights', Swift did a TikTok countdown where she announced the title of each song during 'Midnights Mayhem'. At the time there weren't too many easter eggs to pick up on, however, Swifties have gone back and found that in two episodes of the countdown Taylor holds the phone upside down. Those episodes are the third and eighth one…the same date as the Rare Beauty invites. Coincidence? Never in the Swiftverse.