Standing ban to be lifted for English Premier League and Championship fixtures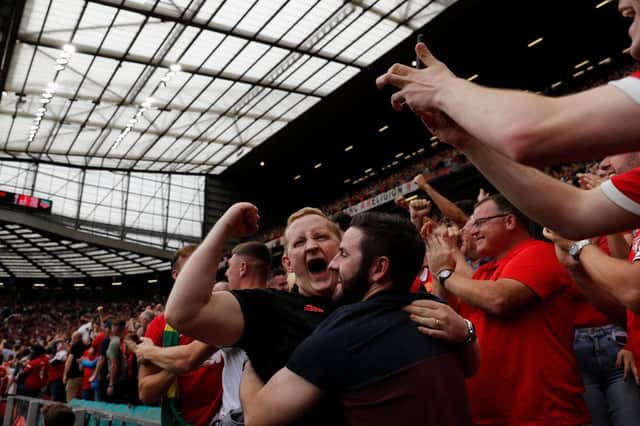 From as early as this season, English football could welcome back standing crowds at Premier League and Championship clubs.
In anticipation of the change in legislation, Manchester United, Manchester City, Liverpool and Chelsea have all installed rail seating over the summer.
An announcement is set to be made in the next month, the BBC reported today (29 August).
Safe standing areas
If introduced, it would be the first time in 25 years that fans would be legally allowed to stand as they watch their team.
In 1994, the law in England changed to require all fans in English and Welsh stadiums to sit throughout the match, but fans have always continued to stand.
It came after the Hillsborough disaster in 1989, when over 90 fans lost their lives in a crush.
Top flight clubs are expected to be the first to welcome standing crowds, with stadiums required to use designated safe standing areas before the end of the season.
If successful in the early stages of the implementation, second league clubs could be given the opportunity to incorporate standing sections in the next two years.
Learn from the past
The chairman of the Football Supporters Association, Malcolm Clarke, said it was a "welcome" development that would benefit all fans.
He added: "People who want to stand should be able to do so safely. Those who want to sit should be able to do so without having their view blocked."
The new seats are incorporated into a waist high rail for the supporters behind to lean on.
In an interview in the Times, Culture Secretary Oliver Dowden said: "It's the sensible thing to do because fans are standing all the way through [games] anyway and you can do it in a safer way.
"We've had terrible experiences in the past and more recent experiences with things like the Euros, which just means we need to make sure we get this right.
"We're engaging with the police and others, but we'll get to the stage this season where we'll see safe-standing, at least in pilot form."
Football with a view
It is understood that government ministers will now ask the Sports Ground Safety Authority (SGSA), to choose "early adopters" for the trials.
A spokesperson for the Sports Ground Safety Authority said: "We are working closely with the government on planning the next steps for implementing this manifesto commitment."
The clubs who have installed standing areas have all had persistent problems with fans standing, despite it being illegal to do so.
The new designated areas would have hip-high rails which fans can lean against and maximum capacity limitations, with standing fans attributed the same amount of space as seated fans.
The designated areas are expected to mitigate against overcrowding risks and allow seated fans to enjoy the matches, without obstruction of their view.
In Scotland, around 3,000 fans in Celtic's Parkhead are allowed to stand in the North Curve corner section of Celtic Park.