St Patrick's Day: 5 things you didn't know about Ireland including highest peak & largest county
Here's five facts you probably didn't know about Ireland this St Patrick's Day!
Watch more of our videos on Shots! 
and live on Freeview channel 276
Visit Shots! now
Whether St Patrick's Day for you means heading to the local pub for a pint of Guinness, or you're eager to try out some Irish culture at home - it all centres around one person - St Patrick. The whole celebration is thought to mark the date of Saint Patrick's death in 467 AD, who was a bishop, the patron saint and the apostle of Ireland.
His life is believed to be chronicled in a document called the Confessio, thought to be written by Saint Patrick himself, and celebrations were first observed in the 17th century. St Patrick's Day celebrations and events usually involve public parades and festivals, traditional Irish dancing and music sessions and the wearing of green attire or shamrocks.
There are also formal and informal gatherings such as banquets, dances and quiz nights, although the formal events were more common historically. To celebrate St Patrick's Day, we have rounded up five things about Ireland that you probably didn't know.
St Patrick's Day - 5 facts about Ireland
Ireland's Highest peak
The highest mountain in Ireland, Carrauntoohil, is located in the Macgillycuddy Reeks mountain range in Kerry and it stands at an impressive 1,038 metres. Those planning a visit here can look forward to a variety of routes (here's a guide to each route) with dramatic summits, stunning cliffs, picturesque lakes, and lush forests.
The most popular route is the Carrauntoohil Devils Ladder trail. This is a 12 km trail that can take between 5 to 7 hours to complete (up and back), depending on the pace.
Ireland's Biggest County
Cork is the largest county in Ireland - bounded by the Atlantic Ocean (south) and by Counties Waterford and Tipperary (east), Limerick (north), and Kerry (west). In 2022 it was estimated that 222.33K live there, and In terms of area, it stands at 7,457 km².
Ireland's Castles
It's estimated there are 30,000 castles and ruins in Ireland. While Blarney Castle and Bunratty Castle are among the most famous, you can see literally thousands more. This staggering number is likely the result of Ireland's tumultuous history of conquest and unrest.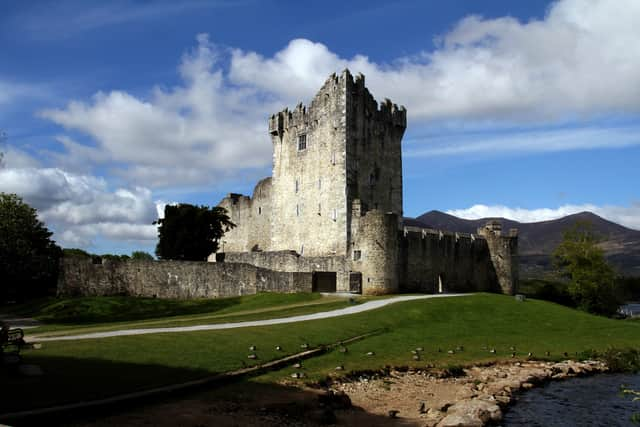 Irish Halloween
It is thought Halloween was invented in Ireland. The roots of Halloween can be traced back 2,000 years to the Celtic Samhain festival, which celebrated at the end of summer.
Ireland Eurovision
Ireland is the most successful country in the Eurovision Song Contest. The nation has won a massive seven times since the contest started in 1956. However, it has finished in the top 10 only once in the last 14 years.