Perfumes the Royal Family favour: All the fragrances worn by Kate Middleton, the late Queen and more
How to smell like a member of the Royal Family - some brands favoured by the monarchy are cheaper than you think and readily available on the high street.
Watch more of our videos on Shots! 
and live on Freeview channel 276
Visit Shots! now
Being a member of the Royal Family comes with pressure to look immaculate at all times, and that includes smelling fresh. You can't see perfume or cologne, but a good fragrance can elevate any outfit, make you feel sophisticated and put a spring in your step.
While you might think scents regularly spritzed by the Royals are out of reach for the likes of you and I, some brands are cheaper than you think and readily available on the high street. From the late Queen and Princess Diana to the Prince and Princess of Wales, here are all the fragrances favoured by the Royals including scents by Jo Malone, Penhaligon's and Davidoff.
Queen Elizabeth II perfume
According to The Fragrance World, the late Queen loved 'L'Heure Bleue by Guerlain, which was created back in 1912 and has notes of citrus, flowers and a powdered-like dry down. Many believe that the Queen wore this perfume on her wedding day in 1947.
Another fragrance believed to be favoured by Queen Elizabeth II was White Rose by Floris. The perfume was launched all the way back in 1800 and is one of the oldest ever created by the House of Floris.
Since then, the fragrance has been modernised. It typically smells like a fresh, romantic bouquet of white roses with notes of amber, musk, iris, jasmine and violet.
King Charles aftershave
In his book Spare, Prince Harry said his father is big on scent and would "slather the stuff on his cheeks, his neck, his shirt. Flowery with a hit of something harsh, like pepper or gunpowder, it was made in Paris."
It is thought the King wears Dior's Eau Sauvage aftershave. It is described in nstperfume as the "quintessential masculine citrus fragrance", with notes of lemon, rosemary, basil, rose, iris, oakmoss, vetiver and musk.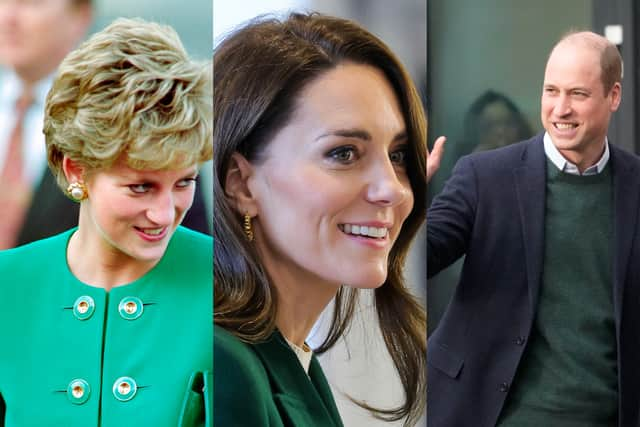 Kate Middleton perfume
According to Vogue, one of the Princess of Wales' all-time favourite scents is the Orange Blossom cologne by Jo Malone. The popular fragrance boasts top notes of clementine flower, middle notes of white lilac and water lily, plus base notes of orris wood.
The cologne is described as modern and refreshing on the first sniff, before it dries down to a "warm and eventually soft, powdery aroma". The fragrance is unisex and was created by Jean Claude Delville in 2003, who was inspired by a star in the Hotel Bel Air in Los Angeles.
Prince William aftershave
According to Hello Magazine, it is believed the Prince of Wales smells "sharp and zesty, with hints of peppercorn and pine" thanks to Penhaligon'sBlenheim Bouquet. It's not confirmed for sure if the father-of-three wears the cologne, but it's "certainly fit for a future King".
The eau de toilette was originally commissioned by the ninth Duke of Marlborough in 1902. The prince's rumoured fragrance is also the same brand as his late mother's.
Princess Diana perfume
According to Celebrity Fragrance Guide, the late Princess Diana had a few fragrances she often spritzed, one one of them was Penhaligon'sBluebell. You can still buy the fragrance today.
The fruity, fresh fragrance has citrus headnotes, mixed in with essences of Lily of the Valley, jasmine and rose, as well as a drop of clove and cinnamon.
Prince Harry aftershave
In contrast to his relatives, Harry is more of a "typical bloke" and has worn Davidoff Cool Water in the past, according to Yahoo Lifestyle. Rumour has it he has now swapped to Terre d'Hermes, a leathery fragrance described as emanating "the warmth and density of wood combined with the softness of benzoin and sparkle of shiso".
Meghan Markle perfume
Back when Meghan Markle used to blog, she wrote: "Fragrance is my favourite thing - so much so that if I leave the house and I don't put any on, I'll turn around and go back home." In an interview with the Express, glamorous Meghan said she loves the Wild Bluebell and Wood Sage & Sea Salt colognes by Jo Malone.