Nasa new planet: Astronomers find two Earth-sized planets - TOI 700 e & LHS 475 in 'habitable zone'
Nasa scientists have announced that they have found two new planets the size of Earth using new technology.
Watch more of our videos on Shots! 
and live on Freeview channel 276
Visit Shots! now
Nasa scientists have discovered two Earth-sized planets orbiting in a potentially habitable zone. The first newly discovered Earth-size world, called TOI 700 e was found using NASA's satellite technology (TESS), and scientists believe water could be on the planet's rocky surface.
Using data from NASA's Transiting Exoplanet Survey Satellite (TESS), scientists found the Earth-size planet, orbiting within the habitable zone of its star – the range of distances where liquid water could occur on a planet's surface. The experts believe the new world is 95 per cent of Earth's size and likely rocky.
Emily Gilbert, a postdoctoral fellow at NASA's Jet Propulsion Laboratory in Southern California who led the work said: "This is one of only a few systems with multiple, small, habitable-zone planets that we know of.
"That makes the TOI 700 system an exciting prospect for additional follow-up. Planet e is about 10 percent smaller than planet d, so the system also shows how additional TESS observations help us find smaller and smaller worlds."
TOI 700, the planet which the newly found world orbits, is a small, cool M dwarf star located around 100 light-years away in the southern constellation Dorado. Additionally, Nasa has also announced that another new planet, formally classified as LHS 475 b has also been discovered using NASA's James Webb Space Telescope for the first time.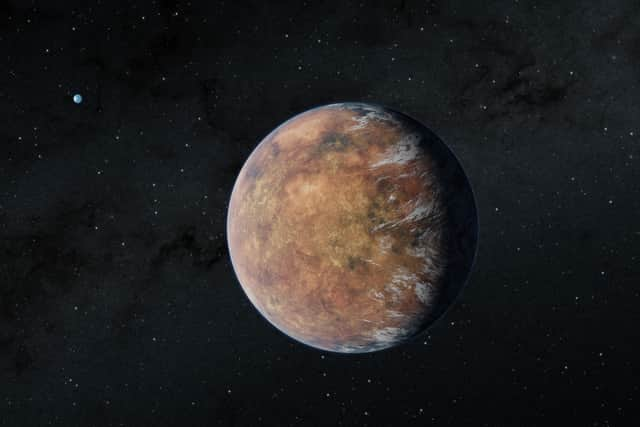 Scientists believe LHS 475 is almost exactly the same size as our own, clocking in at 99 per cent of Earth's diameter. The NASA team observed the planet after carefully reviewing targets of interest from NASA's Transiting Exoplanet Survey Satellite (TESS), which hinted at the planet's existence.
The research team was led by Kevin Stevenson and Jacob Lustig-Yaeger, both from the Johns Hopkins University Applied Physics Laboratory in Laurel, Maryland.
Lustig-Yaeger said: "There is no question that the planet is there. Webb's pristine data validate it. The fact that it is also a small, rocky planet is impressive for the observatory," Stevenson added.
"These first observational results from an Earth-size, rocky planet open the door to many future possibilities for studying rocky planet atmospheres with Webb," Mark Clampin,  NASA's Astrophysics Division Director agreed.