Martin Lewis urges everyone with a mobile to send two texts ahead of controversial bills rise in April
Martin Lewis shared advice for mobile phone customers which could help them knock hundreds off their phone bills
Watch more of our videos on Shots! 
and live on Freeview channel 276
Visit Shots! now
Money Saving Expert Martin Lewis has urged people with mobile phones to send two texts before bills are expected to rise in April. Lewis hosted a special end-of-series edition of The Martin Lewis Money Show Live on ITV1 on Tuesday night from Liverpool.
During the special, Lewis took aim at the slew of price hikes due to start in April that has made customers across the UK furious. Lewis discussed water bills, broadband and council tax as well as setting out a five step guide to beat mobile phone price hikes.
Martin told viewers on Tuesday that from April, phone bills will rise by up to 17% saying: "Even if you are mid-contract, which is something that should be stopped, even including some of the big ones. So what do you do about it? Five steps."
The advice comes after O2 and Virgin mobiles customers received a text in February from the company that read: "Hello. From April 2023 the monthly price of your calls, texts and data will rise by the 13.4% RPI rate of inflation plus 3.9% as set out in your terms."
Customers also received an email which included a statement from Gareth Turpin, chief commercial officer of Virgin Media O2 said: "I wanted to write to you personally to let you know that the price of your monthly O2 mobile plan is changing. Each year, the official Retail Price Index (RPI) inflation figures are announced in February. We then adjust your mobile plan based on these figures, as set out in your O2 contract.
"The change means that from April 2023 the price of your monthly mobile plan (that's the cost of your inclusive minutes, texts and data) will rise in line with the 13.4% Retail Price Index (RPI) rate of inflation, plus an additional 3.9% as set out in your terms."
Money Saving Expert advice on saving on phone bills
The Money Saving Expert shared a graphic of the five steps people need to follow to try and cut their costs, saying: "First text INFO on 85075 on your current phone, it's free to do, to find out if you're out of contract and free to leave."
Lewis then advised viewers to grab cheap SIM-only deals via price comparison websites instead of going directly to providers as you can often get cheaper deals when you're a new customer.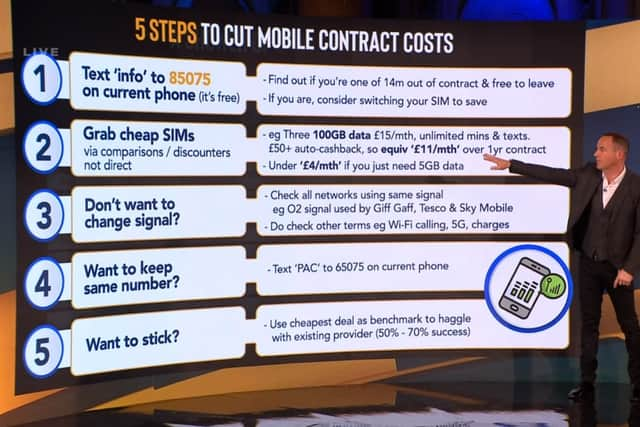 The Money Saving Expert then told viewers that they can often find a low-price network that uses the same signal as the so-called better providers, telling the audience that there are really only four mobile networks in the UK and these are O2, EE, Vodafone and Three with the other companies like Sky using another provider's signal.
The main difference between going with one of the main providers or another company is that perks like 5G or wi-fi calling are not offered on cut-price networks. Otherwise, if you get a signal on the parent network, you'll get a signal in your home on the cheap network that uses its signal.
Step four is to get your PAC code by texting "PAC" to 65075. If you have this code, you can request to move your current mobile number to the company you are wanting to switch to.
The fifth and final tip is to haggle. The Money Saving Expert says this is the benchmark for getting a cheap deal. Martin lewis told customers to ask to cancel when negotiating and get put through to customer retention which is the team with the specific job of trying to keep customers, usually by offering better deals.
If you are unable to get a cheaper deal with them and they say they will have to disconnect you to which Lewis says you should reply: "If they say to you 'I'm sorry we will disconnect you', you say 'I just need to check that with my husband, wife or parrot'." This will give you time to decide whether you should cancel or time to check other deals.