Man forced out of home of 45 years in 'no fault eviction' misses it so much he has returned to camp outside it
The 63-year-old has been living in a tent outside his old home for weeks, surviving off meals cooked on a gas stove and cups of tea brought to him by neighbours.
Watch more of our videos on Shots! 
and live on Freeview channel 276
Visit Shots! now
A man who was forced out of his home of 45 years in a "no fault eviction", missed it so much he has returned - to live in a tent just outside. Gary Lambert was booted out of his three-bed ex-council house in Bristol, which he has lived in since 1978, earlier this month by bailiffs.
The forklift operator was offered an emergency solution but said the homeless accomodation was "drug-infested" and left him on the brink of depression. So four days after being made to leave his beloved home in Stockwood, he has returned to his former community - and set up camp on the lawn in front of it.
Gary, 63, has now been living in the one-man tent outside his old home for nearly three weeks. He cooks meals on a gas stove and neighbours bring him cups of tea.
He claims no one from the local council has even spoken to him since he left the shelter despite him having a series of pre-existing health conditions like diabetes and COPD. Gary said: "We bought the home using right-to-buy and then my father sold it to the landlord who promised us we could stay for the rest of your life if you pay rent, don't worry about it.
"We didn't sign a contract, just a verbal agreement and obviously that isn't strong enough in the law. It has been terrible."
The "no-fault eviction" was carried out on June 7 and Gary was forced to wait until he was kicked out before Bristol City Council would offer him emergency accommodation on nearby Bath Road, Brislington. But he said the "terrible" drug and violence-ridden shelter sent him to the brink of depression and a nervous breakdown – so he declined an alternative hostel and walked out.
He said that despite the challenges of living in a tent he was pleased to be back among old neighbours and friends. He added: "I'm not able to sleep well in the tent, I keep waking up. The air mattress I've got keeps going down in the night as well.
"But luckily enough I've got brilliant neighbours. They bring me cups of tea, toast and if I need a bit of washing done they'll do it for me. They come out to chat to me and bring me meals, good proper meals like cottage pie and pork chops with mashed potato and carrots.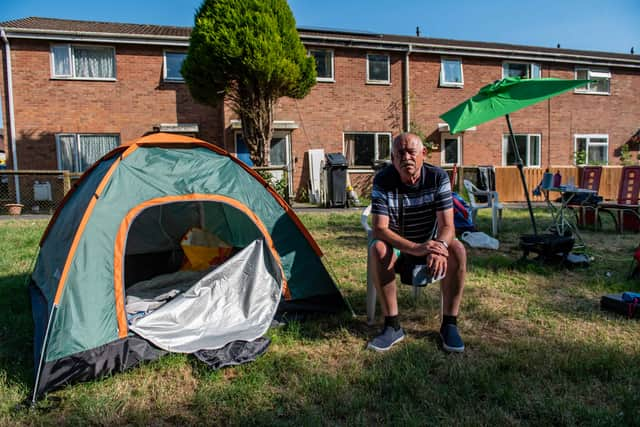 "My brother lives next door and he brings out tea and sandwiches, and one of my neighbours gave me a tent to store things in as well. I've got a portable gas stove and I cook bacon on there and things like that."
"I am going to stay here as long as I can." He said Bristol City Council put him in shared accommodation where there was "drugs and people banging on your door all night for money and fags."
He added: "I just couldn't handle it. There was a council worker down there and I said to him, 'it's a terrible place' and he said 'yeah, I agree with you'.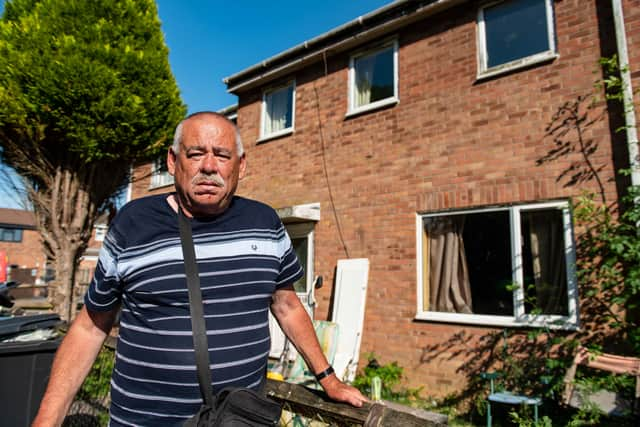 "I was getting depressed, it was dragging me down. I couldn't handle it at all.I just couldn't put up with it anymore. I was going to have a nervous breakdown.
"I thought I would come back and take a chance. If anything happens to me, it happens to me.
"It can be raining, damp and cold here. There was one night when the rain was coming through my tent and I was just there shivering. I couldn't stop.
"I've caught two chest infections while I've been here. I got over one but the tent gets so moist on the mornings with the dew that I caught another, so I'm on antibiotics and steroids."
Gary has applied for several flats via HomeChoice, the council's rehousing app, but says he has not heard anything about them or had anyone from the council come and talk to him since he left the shelter.
He is unable to work because of his health conditions and a letter written by his GP says he needs to be re-housed soon to stop his health issues getting worse. Gary said: "I don't think I could hack it in winter because of my health problems but I don't want to move out of Stockwood. It's my home.
"I haven't seen the landlord since I was evicted. No one from the council has come to see me here.
"If they did I'd tell them I've worked all my life and always paid my taxes. The one time I need their help they won't help me. I would like a one-bedroom flat. It would suit me down to the ground."
Bristol City Council declined to comment on Gary's case but offered general advice for people in his position. A spokesperson said: "Anyone facing eviction and at risk of being homeless should talk to the council by coming along to the Customer Services Point at 100 Temple Street between the hours of 9am and 5pm or calling 0117 3526800.
"Where someone is made homeless and in need of housing support, we do what we can to ensure emergency accommodation is provided to those eligible, giving them somewhere to stay while we work with them to find a more permanent solution.
"With over 19,000 households on the housing register and over 1,200 in temporary accommodation, Bristol remains in the grip of a deepening housing crisis. The administration is making every effort to alleviate this by building homes and making sure affordable and social housing is included in these developments.
"Over 11,000 new homes have been built in Bristol since 2016, including 2,563 new homes in the year to April 2022. Almost 500 affordable homes were built in that year, the most in more than a decade, as we scale up to get Bristol building 1,000 new affordable homes a year."