Krispy Kreme to offer free doughnuts this Easter in exchange for Easter eggs - how to claim
Krispy Kreme has announced free doughnuts for customers this Easter - but there's a seasonal catch.
Watch more of our videos on Shots!
and live on Freeview channel 276
Visit Shots! now
Krispy Kreme has announced the launch of its new 'Eggschange' programme which will allow customers to swap their Easter eggs for free doughnuts over the Easter period. As the cost of living crisis continues to grip the UK, millions of families will be denied the simple joy of tucking into an Easter egg this year, according to new research.
The figures from Krispy Kreme and FareShare show over 5.3m UK adults (10% of the adult population) say finances are so tight this year they may have to miss out on the 'luxury' of buying Easter eggs for themselves and their family. Of those due to spend less on Easter eggs this year, over two thirds (66%) put this down to money being tighter and needing to prioritise their spending.
On average, Brits will spend £26 on Easter eggs this year, while over half (55%) will not be able to afford them at all or will have to buy fewer. The 25-34 age bracket, who are most likely to have younger children, are those most likely to be affected with 14% stating that they will not be able to afford Easter eggs at all this year.
To redress the balance, Krispy Kreme has partnered with FareShare, the UK's national network of charitable food redistributors, to launch an 'Eggschange'. The initiative calls on those who receive more Easter eggs than they need to donate them to people who will otherwise go without this year.
Krispy Kreme will reward those who donate with a shareable four-pack of Easter doughnuts in exchange for their generosity. The donated Easter Eggs will be distributed to those struggling to afford them this year via FareShare's network of over 9,500 charities and community organisations.
Emma Colquhoun, chief marketing officer UK & Ireland at Krispy Kreme said: "This Easter, we are proud to be partnering with FareShare to call on generous Brits to help spread joy to those unable to afford Easter eggs, rewarding them with shareable boxes of our limited edition Easter doughnuts in exchange for their generosity."
Free Krispy Kreme doughnuts - how to claim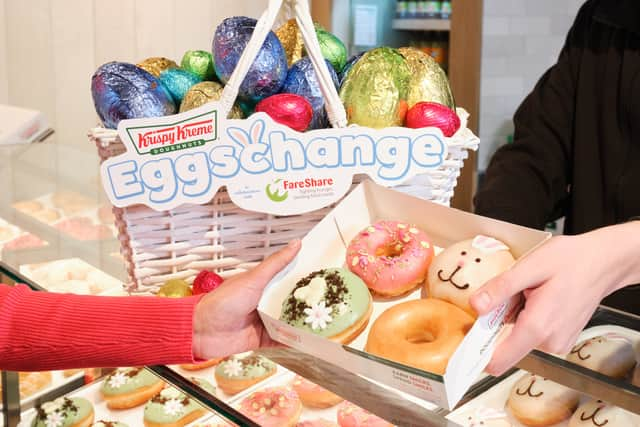 To take part in the 'Eggschange', visit a participating Krispy Kreme location between April 7 and April 10 and donate an Easter Egg to receive four free doughnuts. The freebie is limited to one 'Choose your Own' four pack per customer per day, subject to availability,  and you must be 18 or over to receive the doughnuts.
Easter eggs donated must be chocolate in the shape of an egg and in original sealed packaging. Mini eggs in multipacks or single eggs with a minimum size of 35g / 1.2oz will also be accepted. To find out more and read the full terms and conditions, visit the Krispy Kreme website.