Kremlin spokesperson denies Putin uses body double and hides in bunker following health concerns
The Kremlin's denial over Russian president Vladimir Putin is the latest attempt to dispel rumours that the 70-year-old is unwell
Watch more of our videos on Shots! 
and live on Freeview channel 276
Visit Shots! now
A senior Kremlin official has been forced to deny rumours that Russian president Vladimir Putin uses body doubles and hides in nuclear bunkers. Dmitry Peskov took to the nation's airways to deny the allegations whilst claiming the president was in good health.
Speculation around the physical condition of the ruler has increased in recent weeks after the 70-year-old has been seen walking uneasily, holding on to desks and suffering from a puffy face. There have been several reports in the last few months speculating that the Russian president is suffering from several types of cancer, as well as potentially early Parkinson's disease.
The latest bid to dispel the rumours of Putin's health came during a speech made to children and teenagers at an education event, which was also broadcast on TV. Peskov admitted to the existence of the rumours but was quick to deny all allegations on the dictator's health.
Peskov, who has worked closely with the Russian President for many years, shared that Vladimir Putin was "mega-active" - as well as dismissing all speculation of body doubles. The Russian press secretary said: "Perhaps you had heard that Putin has multiple doubles, who work instead of him while he is sitting inside a bunker.
"This is yet more lies. This is one more lie. You see our president. He is just as he used to be - mega active." Peskov added: " Those who work next to him struggle to keep up. One might only feel envious about his level of energy. His health - you can only wish it for yourself. Of course, he never sat in any bunker - this is lies too. And you see it, this is obvious."
Speculation regarding doubles has continued to grow with political analyst Valery Solovey among those insisting Putin is not attending events. Solovey claimed that the president used actors last week during a trip to the Russian occupied Kherson region of Ukraine to meet with war generals.
During an interview with Arseny Vesnin on the Russian YouTube channel Ischem vykhod, Solvey said: "It was his double Everyone knows this." The carefully edited footage of the visit was released days after the event took place, which further pushed rumours of body doubles.
Solovey made claims that the footage was staged, with Wagner private army founder Yevgeny Prizoghin refusing to take part. Solovey said: "He simply knew that this was not the President. When such things happen, nothing remains of reputation, of political weight."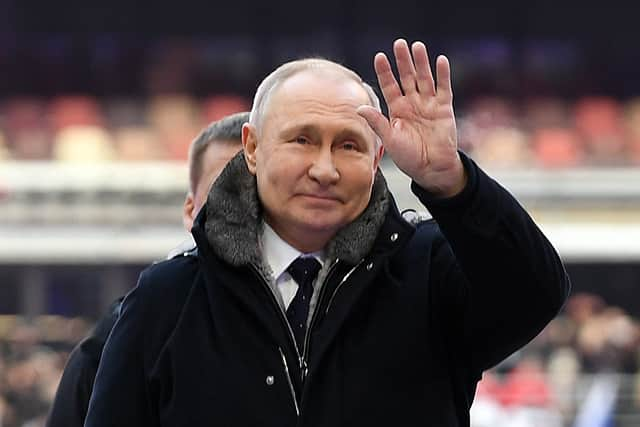 Ukraine has also made allegations that the Russian president is using body doubles, with Ukrainian intelligence chief General Kyrylo Budanov saying: "We know specifically about three people who keep appearing, but how many there are we don't know. They all had plastic surgery to look alike.