June Full Moon 2023: When is the full moon, what does the Strawberry Moon mean and will it be a supermoon?
June will welcome in a new full moon, known as the Strawberry Moon - here's everything you need to know
Watch more of our videos on Shots! 
and live on Freeview channel 276
Visit Shots! now
June is here, bringing with it summer weather and a stunning 'Strawberry Moon' stargazers across the UK are preparing to catch a glimpse of. This will be the sixth full moon of the year.
While the name may suggest this moon will appear in a red hue, that's not true. Red-coloured moons can occur but it comes from their proximity to the horizon, if the moon is closer to the earth more light rays must travel through which will make it red.
Royal Museums Greenwich explains that the Strawberry Moon name comes from. They say: "In North America, the harvesting of strawberries in June gives that month's full moon its name. Europeans have dubbed it the rose moon, while other cultures named it the hot moon for the beginning of the summer heat."
So, when will you be able to see the Strawberry Moon? Here's everything you need to know about the celestial event.
When is the next full moon?
The next full moon on June 3will peak at 4.41am in the UK, and is sometimes known as a 'Strawberry Moon'. The Old Farmer's Almanac said there will be 13 full moons throughout the year. These are listed below.
January 6: Wolf moon
February 5: Snow moon
March 7: Worm moon
April 6: Pink moon
May 5: Flower moon
June 3: Strawberry moon
July 3: Buck moon
August 1: Sturgeon moon
August 30: Blue moon
September 29: Harvest moon
October 28: Hunter's moon
November 27: Beaver moon
December 26: Cold moon
Will the Strawberry Moon be a supermoon?
This year the Strawberry Moon will not be a supermoon as it is expected to be too far from earth. To be a supermoon it should be 360,000km or less away from Earth.
Top Stargazing Tips
Stargazing is easy, you just go outside and look up at the night sky, but to get the most spectacular views, there are a few rules you should follow. The best tip is finding a dark-sky site, and checking the weather forecast before going. Light pollution can often affect how much of the night sky occurrences we see, even more so, cloudy weather conditions make it more difficult to see the stars beyond.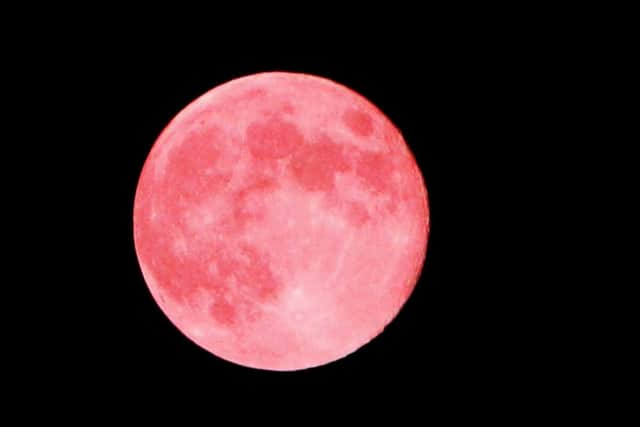 If you are unable to get to a designated dark-sky site, find the least illuminated spot you can where you can see the horizon. Stargazing is such a popular hobby for amateurs and professionals alike, it's likely there is a club near you, or you may have friends with a similar interest. Finding a buddy or club to join on the cold dark nights is always helpful, and one of the best ways to stay safe when stargazing.