Heathrow airport strikes: 8 tips to get through security quicker including wearing the right shoes
This is how you can get through airport security at Heathrow quicker despite the strike action by security guards.
Watch more of our videos on Shots! 
and live on Freeview channel 276
Visit Shots! now
One of the busiest times of the year at airports, the Easter break is a time when many people decide to get away. The strike action by Heathrow airport security guards, which can result in long queues and delays at security checkpoints, is this year adding to the chaos.
Today (April 1) marks the beginning of 10-day strikes by the security guards at the airport, after last-minute negotiations to settle a pay dispute fell through. The walkout, which ends at 11.59pm on Easter Sunday, is likely to involve about 1,400 Unite union members who work for Heathrow Airports Ltd.
Security personnel at Terminal Five, which is only utilised by British Airways, as well as campus security guards who are in charge of inspecting all cargo arriving at the airport are also affected by the strikes.
British Airways reported that as a result of the industrial action, it has cancelled about 5% of its flights and ceased selling tickets for strike days. Flights will be disrupted, according to Union, but Heathrow stated it had contingency arrangements to assist travellers over the Easter holiday.
Amid the disruptions and possible delays, the security experts at Get Licensed have provided their eight tips on how to make your airport experience smoother, for you and the security officers.
8 tips to get through airport security quicker
One strategy is to turn up early, however, this adds to the pressure of the first departure wave which can cause extra delays.
It makes it so much easier and quicker for security if you prep your carry-on luggage and remove any restricted items. Wear sensible shoes (slip on are the easiest) and remove any jewellery, belts and glasses. Also make sure you have your liquids in a clear plastic bag.Take an extra 10 minutes to prepare your bag and make everything quicker for yourself and security.
Clear tray and belongings 
Make sure your clear plastic bag isn't covered up by anything in the tray. If it's seen to be covered or looks like it is hidden inside a bag, you are more likely to be stopped and checked. Make sure your clear plastic bag and belongings are separate in a tray.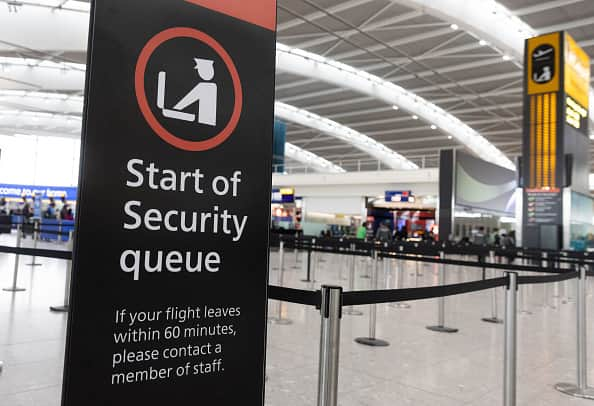 You can often pay for fast-track security which is around £4 (check your departure airport's website you are travelling from for the most recent prices). Keep in mind that airports often cap the number so it doesn't always accelerate the process.
If you have a valid excuse and are in need of getting through quicker, just ask as you may be allowed to jump the queue. You might not, however, get sympathy from those already waiting in line.
Often if there is more than one security officer at an x-ray machine chances are one is a trainee, so the line may go a little slower.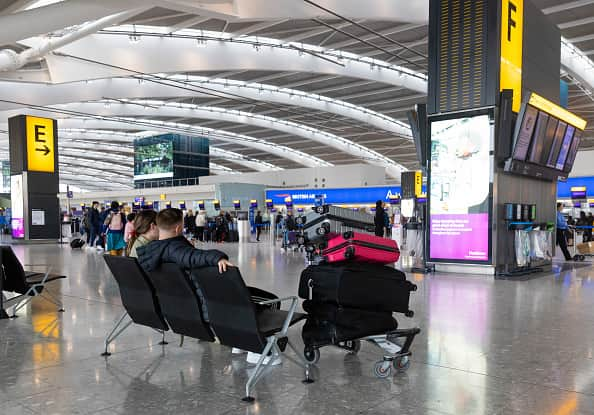 Believe it or not, business travellers usually get through security quicker as they have less baggage. When picking a queue try to keep an eye out for business flyers.
Excessive yawning, whistling or even too much laughter has been reported as just a few reasons why you could be questioned by security, but of course it depends on the officer.