Harry Styles' hometown launches 'Harry's Village Walking Tour' as fans descend on Cheshire village
Harry Styles' hometown has launched a walking tour of iconic landmarks from the pop singer's childhood, including the bakery where he previously worked
Watch more of our videos on Shots! 
and live on Freeview channel 276
Visit Shots! now
Harry Styles' fans can now experience a walking tour of his hometown after the Cheshire village launched a new 'Harry's Village Walking Tour'. Fans have been descending on Holmes Chapel to visit iconic landmarks from the pop singer's childhood.
The village has produced its own map for the two mile tour that can be purchased from the local railway train station for free. The 'Harry's Village Walking Tour' takes fans to iconic locations, such as the W Mandeville bakery, where he worked before appearing on the X-Factor and Fortune City Chinese - where he once took Taylor Swift on a date.
Inside the bakery, the team have a life-size cutout of Harry and fans can buy wooden spoons, sweets and aprons as keepsakes. 'Harries' will also be able to visit his childhood home and sign their name at Twemlow Viaduct, which featured in the One Direction biopic This is Us.
Fans have already begun flocking to the Chesire village, including Judy Abdelikareem, 19, who has travelled from her home in Gothenburg, Sweden to visit Holmes Chapel with her friend Inez Castanheria, 21.
The pair met online in 2016 and have been to several of Styles' concerts together and then decided to travel to Holmes Chapel as they've "always wanted to come." Judy said: "He's like a superstar - that's why everyone comes to visit.
"I've always wanted to come to Holmes Chapel and sign the wall and now I'm finally here. We meet up often and bond and fangirl over Harry - we went to Wembley to see him last month and we went to Stockholm to see him last year.
"It's just great to be here and to be able to see the bakery and the wall. I'm flying back home tonight so I had to come before I left."
Railway ticket officer Graham Blake, 62, has been handing out the free maps to Harry Styles fans as well as helping Harries to plan the best route around the village. Despite concerned locals, the walking tour was launched this summer, with Graham saying that he thinks the walking tour is a great idea as it "puts our village on the map.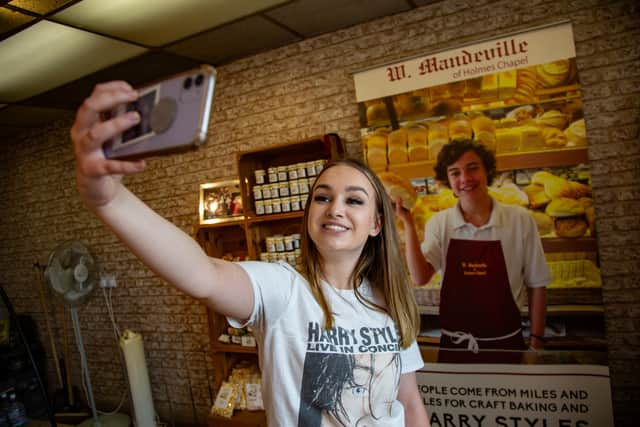 Graham said: "We've had fans visit from Uruguay, Japan, Colombia, Canada and we've had loads of people from America visit. He has friends who live here though so I know he comes back to visit when he can.
"Everyone here has time for the fans and everyone here has a story about Harry – it's such a small village so everyone knows everyone."