Dog-friendly Easter egg hunt: Guide Dogs top tips on safely involving your pet in today's celebrations
Guide Dogs have shared their top tips on how to have a safe and enjoyable Easter egg hunt for your four legged friends
Watch more of our videos on Shots!
and live on Freeview channel 276
Visit Shots! now
Easter is here, and it's a weekend where most of us indulge in chocolate and treats of all sorts. But with chocolate off limits for our canine friends, why not give a dog-friendly Easter egg hunt a try?
The Guide Dogs for the Blind Association, known simply as Guide Dogs, has provided us with the perfect guide on how to celebrate the weekend with your pet, with tricks on how with the "find it" cue, your dog could become the best easter egg hunter in the household.
By taking four of their pups for an easter egg hunt in an enclosed area, Guide Dogs raised awareness of their subscription programme Good Dog! which provides owners with training advice and wellbeing tips. And in proper good dog fashion, they shared their top tips on how to create your own perfect dog-friendly Easter egg hunt at home.
National Dog Training Lead for the charity, Hannah Wright, provides us with the top tricks to include your dog in the holiday celebrations, saying: "Dogs naturally love to sniff and find treats and treasures, so don't leave them out of the Easter fun. While hiding chocolate eggs is not a good idea when pets are around, a dog-safe version of an egg hunt can be set up by anyone as an enriching and exciting activity."
She continues: "Start by teaching your dog the simple 'Find it!' cue. Hide a single treat under a cushion or plastic cup in front of them, and then encourage them to find it. Praise them when they locate and eat the treat.
"Build up to hiding more toys or treats in different places and make it more difficult for them by having them in the next room while you set it up."
"You can even do this outside with food as dogs love sniffing through long grass! But remember to check if your garden has dog-safe plants, as daffodils, especially the bulbs, are toxic to dogs.
"Make sure you take the food from your dog's daily allowance to prevent overfeeding. You can even build up to having your dog find a whole dinner – which is far more enjoyable compared to eating straight from a bowl.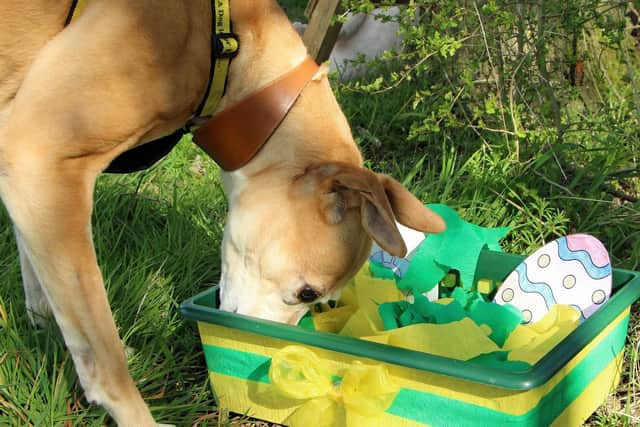 "Why not up the ante and get your dog to find a hidden toy or item and then 'cash it in' by returning it to you for a treat."
So there you have it - how to have the perfect dog-friendly Easter egg hunt. And it might be safe to say their canine friend will find the Easter eggs faster than the rest of the household!