Daylight savings: How to prepare for the upcoming clock change according to a sleep expert
Whilst most welcome the clocks going forward due to lighter evenings - they can have a bad impact, here's how to prepare for the clock's going forward
Watch more of our videos on Shots! 
and live on Freeview channel 276
Visit Shots! now
This Sunday (March 26), the clocks around the UK are set to 'spring forward' an hour, meaning the beginning of longer days with the evenings staying brighter for longer. However, this can pose problems for people.
Every year, the clocks go back an hour and then forward an hour. Clock times are altered to make better use of daylight. We change our clocks during the summer months to move an hour of daylight from the morning to the evening.
When the clocks go forward an hour for Daylight Savings Time in the UK, lighter evenings are welcomed, as it can boost our mood and increase our productivity. Despite just an hour's change, skipping one hour can have an adverse effect that lasts a while.
Sleep experts at Opera Beds speak about how Daylight Savings Time affects our bodies' internal clocks and therefore our sleep - and tips on how to prepare to avoid longer-lasting disruption.
They also touch on the mental and physical health benefits of lighter evenings and have spoken to consultant health psychologist and sleep disorder expert, Dr Sue Peacock, to provide readers with further sound advice about how to manage the changes.
How to prepare for the clock changes and get a good night's sleep
- Gradually adjust your sleep schedule by going to bed and waking up 10-15 minutes earlier each day in the days leading up to March 26, to adapt to the new time
- Keep a consistent sleep routine, even at weekends, to regulate your body's internal clock and improve sleep quality
- Keep your bedroom dark, quiet and cool for a sleep conducive environment - you might want to consider blackout curtains or earplugs to reduce distractions to sleep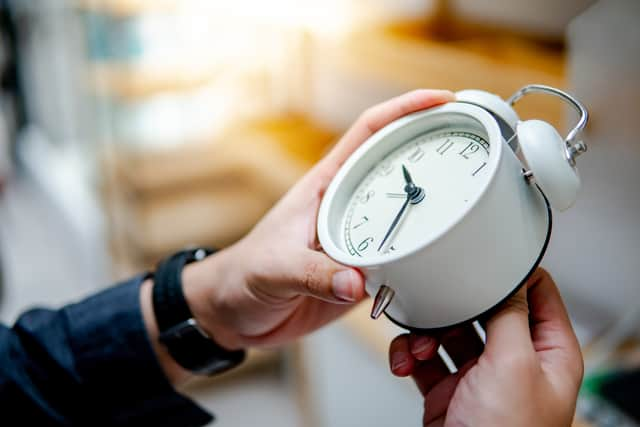 - Practise good sleep hygiene by avoiding caffeine and alcohol before bed and engage in relaxation practices to calm your body and mind before sleep
- Spend time outdoors during the day as exposure to sunlight can reduce feelings of tiredness associated with the clocks changing
- Avoid exposure to blue light emitted by phones, tablets and laptops to promote good sleep