Coronation Street, EastEnders & Emmerdale: Here's what's happening on the soaps this week
WARNING: SPOILERS AHEAD - here's what's unfolding on Coronation Street, EastEnders and Emmerdale this week
Watch more of our videos on Shots! 
and live on Freeview channel 276
Visit Shots! now
After a weekend break, Britain's most beloved soaps are all back tonight (February 6) with some juicy storylines really starting to take shape. However, Eastenders fans will have to make do with just three episodes this week instead of the usual four.
Eastenders usually airs on BBC One at 7.30pm from Monday through to Thursday but the channel is deciding to air coverage of the fourth round FA Cup replay between Sunderland and Fulham in its place on Wednesday (February 8).
In the Dales, this week sees Mandy growing closer to Paddy. Paddy had his world turned upside down last year, as he discovered his wife and mother of his child was embroiled in an affair with Al, who died.
Over on the cobbles, all the focus is on Nick, Leanne and Damon. Damon has been using The Bistro to funnel drugs through for weeks now, even forcing his son, Jacob to leave after a botched job earlier in the year.
And in Eastenders, Zack's secret regarding his HIV diagnosis may be revealed. This week sees him start his treatment, but all doesn't go according to plan when Zack experiences side-effects from his medication whilst at the hospital with Whitney.
What is happening in the soaps this week? February 6 - February 10
Emmerdale
Naomi makes a plan to help Ethan, with Nate acting as bait. The ultimate goal is the pair hoping to expose Greg's true sleazy nature while secretly recording him on his phone. Will the plan work?
Elsewhere, Chas puts Paddy in his place over what she perceives to be controlling behaviour, reminding her ex-husband that it's his choice to remain living with her. Chas' affair with Al ripped their marriage to shreds.
The latest in a series of arguments between the two, and the whole ordeal sees Paddy looking down. Mandy notices that Paddy is still struggling with it all, and begins to worry about her former flame.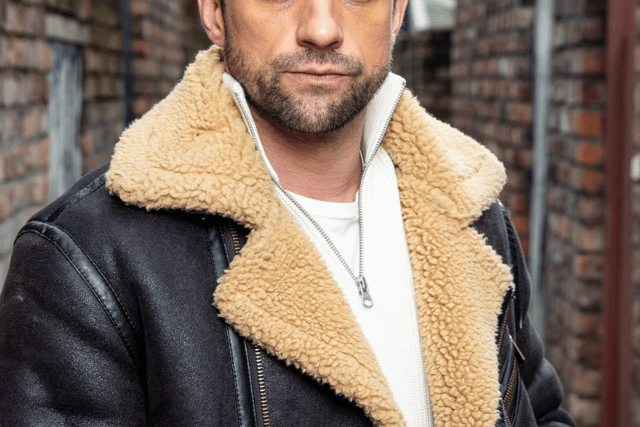 This causes Mandy to reach out, and the pair reminisce on the past music and dissolve into alcohol-fuelled laughter. Mandy battles with her conscience as the pair lock eyes during their drunk state. Will their spark be reignited?
In an hour long episode to be aired towards the end of the week, Sarah overhears Mack and Chloe discussing their baby secret and discovers the truth. Just as Mack and Chloe are about to reveal their secret to Charity, Sarah comes stumbling down the stairs, struggling to breathe and goes to the hospital.
Coronation Street
The storyline surrounding Damon took a twist as Nick revealed the reason why he's keen to see Sam steer well clear of Damon. This week, after Nick confirms that the drugs have been delivered, two masked men storm in and take Ryan at gunpoint - will he make it out alive?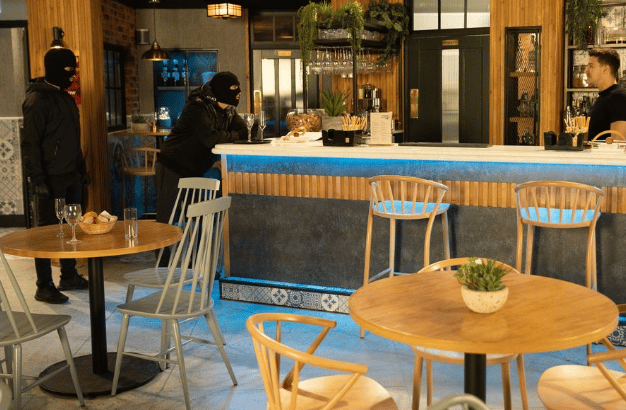 Craig informs Leanne they have arrested the two men they believe to be the gunmen who stormed the bistro. Nick tells Damon to get rid of the drugs or he'll dispose of them down the toilet. Will Damon get away from the heat on him?
Meanwhile, Todd pulls up in a taxi as Sean and Laurence make their way up the street. The driver of the taxi instantly recognises Laurence and warns Todd and Eileen that their friend needs to watch his back.
Sean grabs Todd's phone, finds the taxi app and shows Laurence a picture of Mitch the taxi driver. Laurence swears that he doesn't know who the driver is, and is unsure why he said what he did.
Eileen reveals she has found a picture online of Laurence and his wife with her arm round Mitch, the taxi driver. Sean tells Todd and Eileen that they're totally wrong about Laurence, and he has booked them a mini-break.
Eastenders
Sonia Fowler and Reiss Colwell will grow closer after some drama with Sonia's new lodger Jed. Reiss was introduced to the soap last month as a potential love interest for Sonia, but grows jealous of Jed and worries he's missed his chance.
It's more drama for Lola, who is shocked to hear that an unknown adult has attacked Lexi's school friend Maisie, as revenge for Maisie picking on Lexi with Lola believing that her online presence is the reason behind it.
Zack's HIV diagnosis may also come to light. Zack has been hiding the secret around his diagnosis and begins to start medication for HIV. Zack begins to experience side-effects of the medication whilst at the hospital with Whitney.
Despite Suki's stark warning to stay away, Nish and Vinny wage war against the Mitchells. Phil accuses Nish over his actions, but is at a crossroads when Suki gives her husband an alibi. The Minute Mart is trashed by an intruder.