Boris Johnson 'squared up' to King Charles over Rwanda policy, according to former press chief
Recalling the final months of Mr Johnson's time at Downing Street, a former press chief has revealed all...
Watch more of our videos on Shots! 
and live on Freeview channel 276
Visit Shots! now
Boris Johnson allegedly 'squared up' to King Charles after he labelled the government's Rwanda policy 'appalling' and planned a speech on slavery. Ex-director of communications under the former prime minister, Guto Harri, spoke about the alleged confrontation on his new podcast, Unprecedented: Inside Downing Street
Recalling the final months of Mr Johnson's time at Downing Street, Harri claimed Mr Johnson told him he 'went in quite hard' on the then-Prince of Wales. The confrontation reportedly led to a falling out between the pair during an overseas trip to Rwanda.
Harri said: "Things were not so celebratory when Boris and the soon-to-be King went to Kigali, Rwanda. Prince Charles, as he was then, had criticised the government's approach to small boats.
"He was also planning a speech on slavery. Boris squared up, confronted him and warned him 'I'd be careful' he said, 'or you'll end up having to sell the Duchy of Cornwall to pay reparations for those who built it.' Relations never fully recovered."
During an interview with LBC, Mr Harri elaborated on his remarks and said: "They did have a bit of a showdown, but for the reason that the man who is now King criticised what was A, extremely popular government policy, B, very central government policy and C, on the eve of the two of them going to the very place at the heart of the story, Rwanda.
"So it wasn't a fight. Obviously they didn't square up to get in the ring. But Boris, rightly, challenged the unelected royal at the time."
Prior to Mr Johnson and the soon-to-be King's trip to Rwanda, the government had announced plans to reroute asylum seekers to Rwanda despite criticism of the African country's human rights record.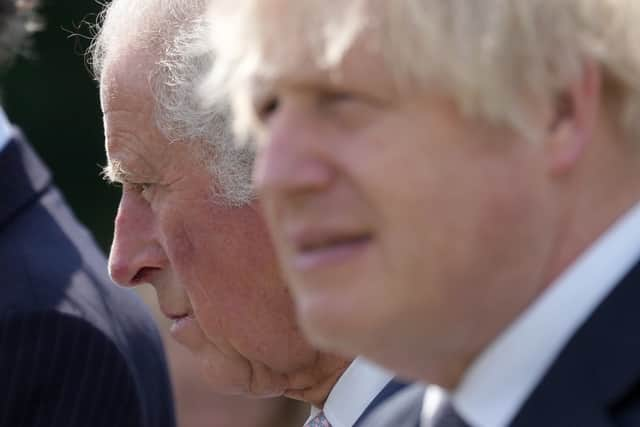 At the time, it was reported that Charles branded the policy "appalling", and was said to be "more than disappointed by it". Writing in the Daily Mail, Mr Harri said that the King had 'obviously expressed criticism' at the policy and had 'tried to play it down'.
He said: "…Boris pointed out the obvious, (saying): 'If you didn't say it we both know your people could ring the newspapers and kill the story. The fact they haven't done that says it all'."
A source close to Mr Johnson said the former ally's account is 'inaccurate' and' does not accurately reflect any conversation'.