Banksy: Graffiti artist announces first official solo exhibition in Glasgow - when is it & ticket details
Banksy is set to host his first official solo exhibition in Glasgow from Sunday, June 18.
Watch more of our videos on Shots! 
and live on Freeview channel 276
Visit Shots! now
Mysterious graffiti artist Banksy is set to hold his first official solo exhibition for the first time in 14 years. The show, which will feature work from right across his career called CUT & RUN: 25 years card labour, will run at Glasgow's Gallery of Modern Art from Sunday (June 18).
Banksy previously organised the temporary art project Dismaland at a Somerset resort, which closed in 2015 and involved more than 50 artists, including Damien Hirst, Jenny Holzer, and Jimmy Cauty.
The latest exhibition intends to demonstrate the entire behind-the-scenes process of how his works are created, with original sketches as well as stencils that have been painted on to give them new life.
Banksy has used original stencils to create new versions of many of his famous works, including Kissing Coppers which first appeared on a wall of the Prince Albert pub in Brighton in 2004. Also featured will be Mobile Lovers, from Bristol in 2014, which features a hugging couple who are both looking at their screen over the other's shoulder.
According to the BBC, this was not a decision made lightly by Banksy, who has not given a face-to-face interview since 2003 and has never revealed his true identity, but is believed to be around 50 and from the Bristol area.
He said in a statement: "I've kept these stencils hidden away for years, mindful they could be used as evidence in a charge of criminal damage. But that moment seems to have passed, so now I'm exhibiting them in a gallery as works of art. I'm not sure which is the greater crime."
The big exhibition also contains a detailed model that explains how Banksy shred his Girl With Balloon painting during a Sotheby's sale in London in 2018.
Other displays include Stormzy's Union Flag stab vest, which he wore to headline Glastonbury in 2019, as well as pieces previously exclusively seen in Bethlehem, West Bank, such as a pillow fight between an Israeli soldier and a Palestinian citizen.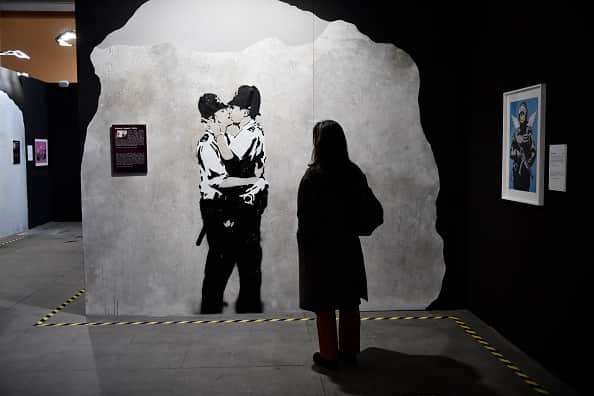 Banksy's most recent solo show was 2009's Banksy versus Bristol Museum, which featured a burnt-out ice cream van in the main entrance hall, making eerie noises while a large ice cream melted on its roof.
Banksy has held an exhibition in Glasgow before. He was relatively unknown when he co-produced Peace Is Tough at The Arches venue in 2001 alongside Jamie Reid, best known for his design work with The Sex Pistols.
The event was regarded as poorly attended, but it did include early works such as Monkey Queen. He also made a number of stencil-based pieces throughout the city, none of which are currently in existence.
CUT & RUN is on until August 28 and at weekends will stay open all night. There are also plans for the exhibition to go on tour. Tickets are currently available on See Tickets.