2023 DZ2: Potentially dangerous asteroid 'size of a building' will pass very close to Earth in coming days
The huge space rock will get closer to Earth than the moon this weekend, with astronomers tracking its risk of hitting our planet  - here's what you need to know.
Watch more of our videos on Shots! 
and live on Freeview channel 276
Visit Shots! now
A building-sized asteroid is set to fly closer to Earth than the moon this weekend. Astronomers first spotted the huge space rock on February 27 - and have been tracking its potential risk of impacting Earth.
Dubbed 2023 DZ2, the asteroid is roughly 40–95 metres (130–310 feet) in diameter, and is classified as a near-Earth object of the Apollo group of asteroids. And were it to crash into Earth, it would cause catastrophic damage.
In fact, if the worst had happened, it is estimated that an impact would produce an upper atmosphere air burst equivalent to 4.5 Mt TNT - roughly equal to 214 times the Fat Man warhead dropped on Nagasaki.
Given the asteroid's orbit right now, there is a 1 in 430 chance it will impact Earth on March 27, 2026. But according to EarthSky, that slight chance is likely to vanish as astronomers learn more about the space rock's trajectory.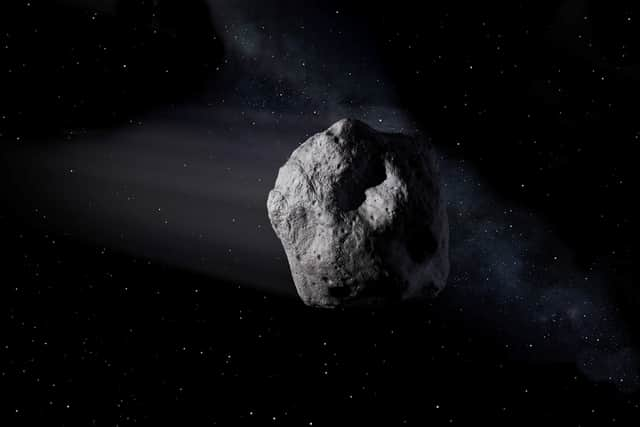 How to see the 2023 DZ2 asteroid from Earth
Most asteroids aren't bright enough to be seen by the naked eye. But skywatchers with six inch (15cm) telescopes or larger have an opportunity to see 2023 DZ2 from the Northern Hemisphere on Saturday evening.