A Manchester woman has no excuse to miss her train to work after being gifted an alarm clock which acts as a live departure board and has built in announcements.
Train enthusiast Daisy Chapman-Chamberlain, 30, was given the gadget by her partner, but says it's "quiet" at the moment due to the train strikes but it does help with extra info. The clock acts as a live departure board allowing people to track and follow train times from their bedside table. It displays live departure times and real-time data for any UK train, tube, bus or tram journey - including notifications of delays, calling points and announcements. Daisy's Twitter picture of the wacky clock has been retweeted hundreds of times and liked more than 15.000 times - with her video viewed 2.3m times.
The unique gadgets were designed by Russell Pirie of UKDepartureBoards, who have been making them for the last five years, and are priced at £164.99. He also does versions for Tubes and buses.
Daisy, who also works in rail technology, said: "I've always been interested in gadget railway tech stuff, so I started the account to share cool train gadgets. You can set it the clock to whichever station you'd like. Now I can wake up and glance over it whilst I'm making a sleepy cup of tea. I was delighted when I first opened it on Christmas Day.
"Unfortunately, there was no trains running so I had to wait a few days for it to show some trains. I've just accepted a new job which means I'll have a commute to London - so I'll set it up for Manchester Piccadilly to London. I'm definitely going to take it on the train with me as well and watch the trains go by."
The device also plays announcements just like those in the station, meaning you don't have to keep glancing at your phone to check times. Daisy said: "I've got it to one announcement every hour and you can have as much or as little information as you like.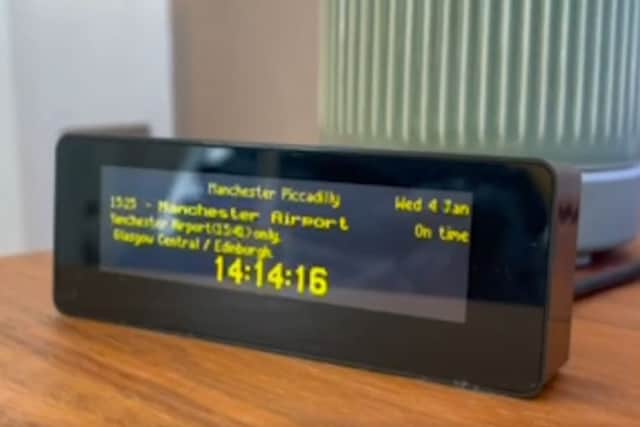 "You can set it to a specific platform, and you can set your own frequency on the device so it's bit more tailored to your needs."
Daisy believes these types of gadgets could bring back the 'fun' to the UK's railways and thinks train companies should customise their own.
"We need to make trains fun again and with stuff like this we can make it fun and it's going to make it better for the future of rail," she said. "Train companies could buy them with their own branding and sell them in stations for passengers.
"Or they could be given out as gifts or incentives for passengers who've spent a certain amount or taken a certain number of journeys or even given out for free if it's a special service. I've been in touch with the inventor, Russell, and he puts them together himself and does all the programming. He's hoping to go full-time with it as he's been doing it as a side hustle for five years now."
Daisy says her new desktop departure board will help with extra information during railway strikes but was keen to point out the importance of the strikes and why they happen. She said: "It's always important to be prepared and this kind of device can give extra information. It's amazing to have the gadget, but people are striking so the future of trains and passengers are safe, and no gadget can replace that."