Molly-Mae Hague's tanning brand has seen a spike in searches after her boyfriend Tommy Fury promoted 'Filter by Molly-Mae' during his highly-anticipated boxing match against Jake Paul.
The Love Island star, 23, who lives in Cheshire, founded 'Filter by Molly-Mae' in 2019. She took the opportunity to advertise the brand on her boyfriend's clothing as he fought the YouTuber in front of millions of people over the weekend.
Tommy's entourage including his dad John Fury, also wore the branded hoodies and shirts at the long awaited boxing match in Saudi Arabia.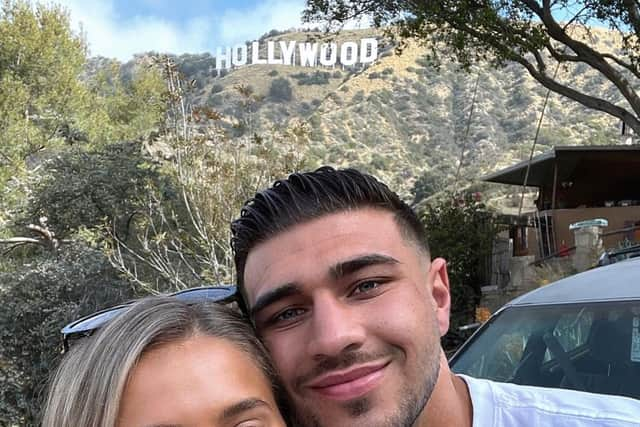 New research by Influencer Marketing Company Ubiquitous shows searches for Molly-Mae's tanning brand soared by 4900% after the fight.
The research also revealed that searches for the term 'what is Filter by Molly Mae' also soared by 190 per cent after the fight, and searches for Molly-Mae herself soared by 3233.33 per cent.
The search term 'Bambi', which is the name of Molly-Mae and Tommy's five-week-old daughter, which he had branded across his hoodie in gold writing, soared by 1566.67 per cent.
Jeremy Boudient of Ubiquitous said: "The value of these search increases is easy to see, all we have to do is look at previous items which have spiked as a result of major events or even viral TikTok videos and the impact that has had on sales.
"The gap between influencer and 'professional athlete' is closing and this match proves exactly that. While Fury may have had more of a traditional boxing background, being from a family of boxers including his famous brother, Tyson Fury, he still has ties to the influencer world.
"Fury built quite a following of his own before, during, and after his time on popular reality TV show Love Island, known for turning everyday people into influencers, and his long-term partner Molly Mae is also well known in the influencing space.
"Meanwhile, Jake Paul may have started in the influencing space and moved to boxing after 'YouTube' boxing began to originate as a concept, but with an impressive set of wins it's getting harder to differentiate between influencer and boxer."
Jeremy added: "More so than ever athletes are expected to build a following and influence of their own. Meanwhile, YouTube and influencer boxing really established itself as nothing to be taken lightly in recent years meaning the gap between influencer and athlete is closing at a very fast rate.
"What does that mean for the future of sports? It's anyone's guess - but one this is for certain, the power of influence is not going away any time soon."
To find out more about Molly-Mae Hague, click here.
To find out more about Tommy Fury, click here.