The Great British Bake Off is set to return to screens with a star-studded line-up this Christmas and New Years on Channel 4.
Last month, we saw Syabira Yusoff crowned the winner of The Great British Bake Off 2022. We're now off to the famous white tent, once again, which has since been decked out in tinsel and baubles to welcome a new group of celebrities, as they take on the baking challenge.
Paul Hollywood and Dame Prue Leith will be back, judging the five celebrities as they go head-to-head to complete three tasks, in attempts to win Christmas Star Baker.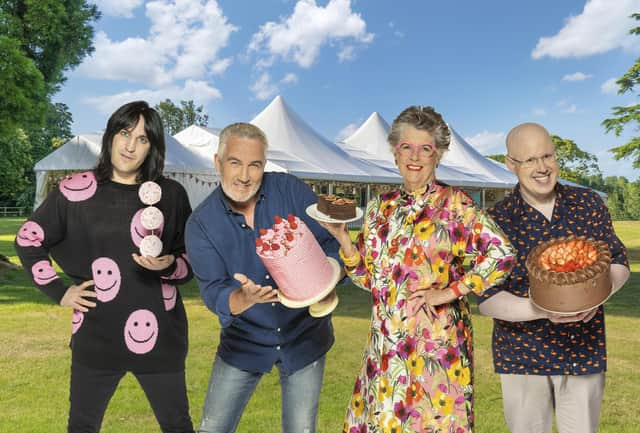 Joining them in the tent will be hosts Noel Fielding and Matt Lucas, as they oversee the celebrities thriving or barely surviving the challenges given to them.
The Great Christmas Bake Off airs on Christmas Eve, Saturday, 24 December, at 8.25pm on Channel 4.
The Great New Year Bake Off airs on New Year's Day Sunday, 1 January, at 7.40pm on Channel 4. Both episodes will also be available on All4.
So, who is taking part in The Great British Bake Off Christmas special 2022 and The Great New Year Bake Off?
Who are the celebrities taking part in The Great Christmas Bake Off special 2022?
Tony Robinson, 76, from London, is an actor best known for appearing in BBC's Blackadder, Channel 4's Time, and most recently More4's Tony Robinson's Museum of Us.
When the news was announced, Tony took to his Instagram account to tell fans: "I had such a wonderful time @britishbakeoff, made four brilliant new friends for life and made a chunk of cash for charity to boot!"
Gaby Roslin, 58, from London, is a TV and radio presenter, known for appearing in a whole host of shows, from BBC's Children in Need and Channel 4's The Big Breakfast, to Lorraine and The Saturday Show Live.
Roslin revealed: "I have never ever baked a cake before, let alone followed a recipe to make one! I cannot begin to tell you what a massive thrill this is for me. I have watched this show from day 1 and never ever imagined I'd be taking part!"
Terry Christian, 62, from Lancashire, is a broadcaster, journalist and author, known for Channel 4's The Word and Channel 5's topical series The Wright Stuff and Jeremy Vine.
When the line-up was announced Terry took to Instagram and posted multiple photos to let his followers know about the upcoming festive episode. He added: "No I didn't serve Pru Leith a fairy cake containing pubic hair. Those days are long gone :-)"
Claire Sweeney, 51, from Liverpool, is an actress best known for the role of Lindsey Corkhill in the Channel 4 soap Brookside and playing the role of Roxie Hart in the musical Chicago in London's West End.
The actress wrote: "Thrilled to be part of the Christmas special for Great British Bake Off celebrating 40 years of Channel 4. Had so much fun."
Miquita Oliver, 38, from London, is a presenter and radio personality known for appearing in a whole host of shows, from Popworld and T4, to presenting on BBC Radio 1 and BBC Radio 1Xtra.
Oliver paid homage to Channel 4, on Instagram as she revealed her participation in the Christmas Special. She wrote: "CHANNEL 4 is my home.It is where, at 15 years old, I started broadcasting. So I was completely thrilled to be part of THE GREAT BRITISH BAKE OFF CHRISTMAS SPECIAL."
Who is in the tent for The Great New Year Bake Off?
The Great New Year Bake Off will be on hand to cure January blues and New Years hangovers. The special episode on New Year's Day will see four former contestants returning to the tent, to do what they do best.
Antony Amourdoux, 34, from London, is from series nine, and was baking alongside the likes of Ruby Bhogal and eventual winner Rahul Mandal.
Lottie Bedlow, 33, from West Sussex, appeared in 2020's series of bake-off and managed to gain a strong fan following on social media, despite coming 6th out of all 12 contestants.
Manon Lagrève, 30, is a French baker, from London, who appeared in series nine alongside Antony Amourdoux, and came out in fifth position.
And lastly, we have last year's finalist, Chigs Parmer, 41, from Leicester, who was first runner-up to eventual series winner, Giuseppe Dell'Anno.