Gabby Logan and Gary Lineker have led the sporting world in paying tribute to John Motson, after the legendary football commentator tragically passed away at the age of 77.
Known as Motty, John had a 50-year career with the BBC before passing away "peacefully in his sleep" on Thursday (23 February).
Current sports broadcaster Gary Lineker, who was once regarded as one of the greatest English strikers, was left "saddened" by the news.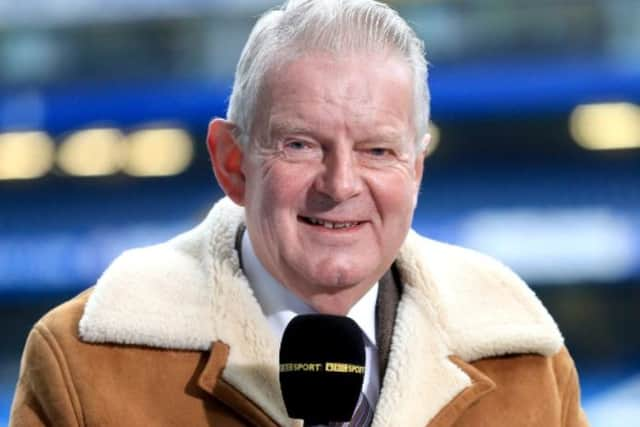 Posting on Twitter, he wrote: "Deeply saddened to hear that John Motson has died. A quite brilliant commentator and the voice of football in this country for generations. He'll be very much missed. RIP Motty."
Ian Dennis, a BBC Radio 5 Live commentator and Chief Football Reporter, wrote: "Forever grateful. RIP Motty."
Another popular sports commentator, Sanny Rudravajhala, shared his favourite "Motty moment" on Twitter, alongside a video of John commentating a Euro 1996 match.
He wrote: ""Here's Gascoigne, oh brilliant, oh yes! Oh yes!" "We each have our own Motty moment. For me, it'll forever be Euro 96 and Gazza's genius. RIP John Motson."
Kevin Kilbane, who had 110 caps for the Republic of Ireland national team before retiring from football in 2012, also shared a clip of his favourite moment commentated by John.
He wrote: "One of the greatest moments in our history perfectly described by the legend John Motson. #RIPMotty"
Sports presenter Gabby Logan shared a picture of John to her Instagram story, on it she wrote: "Rest in peace Motty. Am [an] icon of the genre. Grew up listening to his joy and poetry. Lucky enough to have worked with him."
Talk Sports' David Tanner remembered World of Sports presenter Dickie Davies - who passed on Sunday (19 February) - as he paid tribute to the "iconic" Motty.
He tweeted: "RIP John Motson. First Dickie Davies and now Motty, two big TV voices have been silenced this week.
"My earliest memory of watching football was Wembley 1977. Motson's commentary was cleverly crafted: no unnecessary words and he left space for 98,000 Jocks to be heard. Iconic."
Kevin Campell, who played professional football from 1988 to 2007, also paid his tribute to the "absolute legend". He wrote: "Rest in Peace John "Motty" Motson an absolute legend and gentleman."
Another former footballer, Chris Kamara, who also had a managerial career before becoming a presenter and analyst for Sky Sports, shared a picture of him and the "true gent".
He wrote: "Just heard the sad news about Motty. Had the pleasure of working with the legendary John Motson on numerous occasions - a true gent. Such a lovely man RIP Motty"
Neil Ruddock, who played for the likes of Liverpool and West Ham in the 1990's, worked with John many times.
He said: "A gentleman in every sense worked with you many times Motty, you where the best RIP my good friend."
Freelance sports commentator, presenter and journalist Michael McCann wrote: "Sad to hear that John Motson has passed away age 77. For so many like me growing up he was one of the voices of football. His big break came when non-league Hereford took out top-flight Newcastle in the FA Cup. RIP Motty #Motty #JohnMotson #JohnMotsonRIP".
Those not in the sporting world, who have also paid tribute to John, include comedian Tim Vine, BBC News correspondent Judith Moritz, broadcaster Piers Morgan, and impressionist Rory Bemner.